Press Releases
New Night-Time Schedule for 2fm With Dave Fanning at the Weekend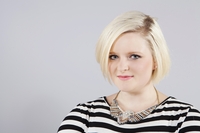 RTÉ 2fm today announced its new night-time schedule with sports show Game On continuing at 7pm, Louise McSharry debuting at 8pm and all-new-to-2fm Chris Greene & Ciara King from 10pm - 1am.
WEEKNIGHTS

Bottom Of The Barrel with Chris and Ciara is a new departure for night-time 2fm. With chat and music, they'll be offering a wry, sideways look at the world that doesn't take itself too seriously. Chris has worked with iRadio since 2007. He was the youngest full-time talk show presenter on air in Ireland at the time and was chosen from a talent search of 400+. He is one half of a comedy duo 'Final Boss Media' along with comedy partner Peter Ganley. Chris has presented on Channel 4, TV3, Yahoo! and Paddy Power TV. Ciara King has worked in iRadio for the last 5 years alongside Chris. With a Masters in Journalism she has also produced Abie Philbin Bowman's semi national radio show. Commenting on their new role, Chris & Ciara said: "We are delighted to have gotten a chance to present the most coveted slot in radio where no one is listening! On a serious note, we're really looking forward to pushing the boundaries, causing trouble and not taking ourselves too seriously. Hopefully we'll last more than 8 months in RTÉ!"
The Louise McSharry Show will air weekdays on 2fm from 8pm to 10pm. Join Louise for great talk and great music along with the topics people are talking about across Ireland on social media and beyond, from what's going on in pop culture to the things that affect people's lives. Music in the show will focus on brand-new acts and new music from established artists. Louise was born in Dublin, moved to Chicago when she was 7 years old and moved back to Ireland when she was 16 to study her leaving cert. She then started working in radio in 2003 as a researcher in Newstalk, from there she moved to iRadio where she was involved in the start-up and presented the breakfast show for the first 2 and a half years of the stations existence. Louise joined 2fm in 2009 and started doing weekend breakfast in 2012. Commenting on her new role, Louise McSharry said: 'I'm delighted to have the opportunity to join the weekday schedule and I am really excited about getting the chance to talk about the things that have Irish people buzzing.'
Game On is 2fm's informative, interactive and agenda-setting daily sports magazine show with Damien O'Meara in the presenting chair. It provides listeners with the hottest sports stories and some of Ireland's biggest sports stars, on the boil from 7pm every evening. Ronan O'Gara and Eamon Dunphy are regular contributors to the bravest sports show in Ireland. Game On is the home of midweek live sport on Irish radio, featuring Champions League, Republic of Ireland Internationals, Women's Six Nations Rugby and Rabo Pro-12.
WEEKENDS
With Will Leahy, Larry Gogan and Dave Fanning, 2fm is set to change how people think about weekend radio. Dave will present Fanning on 2fm on Saturday & Sunday's from 10am-12pm. He will get stuck into the morning papers, guests will drop in for a chat, there will be film and music reviews and he'll be covering quirky stories from home and beyond, all to be delivered at Dave's inimitable, slow-talking pace. Commenting, Dave Fanning said: "I've loved every minute of my 2fm Saturday morning talk show and I'm delighted that I've got another chance to do it all again on Sundays. It will afford me more time to squeeze in more great music, more movie reviews and more big interviews with the biggest names in town"
This is the fifth announcement in the new 2fm line-up. Bernard O'Shea, Keith Walsh and Jennifer Maguire were last week revealed as the new 2fm breakfast presenters. Nicky Byrne was announced as the new presenter of the Nicky Byrne Show which airs weekdays from 11am; Colm Hayes is presenting Drive By with Colm Hayes and Will Leahy is moving to weekends. Larry Gogan will present a new two-hour show at weekends.
Head of 2fm, Dan Healy said: "Bringing Louise McSharry, Chris & Ciara to the weekday schedule is a new departure for the station and sees a real articulation of where we're driving content right to the edge! These two night time programmes will be all about fast paced, high octane content that pushes boundaries and captures the buzz of the now across radio, social media and more importantly the lives of our listeners. Dave Fanning has been with 2fm since day one. He's an icon in his own right with utter credibility across all demographics. Crucially Dave resonates with the 20-44 target audience for the station and his two weekend programmes will really allow him to build on this connection with listeners."
2fm will be making further announcements on the new schedule in the near future, follow us on @rte2fm, facebook/2fmofficial and www.rte.ie/2fm