Press Releases
RTÉ announces Contempo Quartet as new Resident Quartet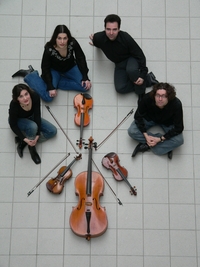 30 November 2013: RTÉ announces Contempo Quartet as new Resident Quartet Following Successful Tender
Following a competitive tender process, RTÉ has announced the internationally acclaimed Contempo Quartet as the new RTÉ string quartet. Replacing the outgoing RTÉ Vanbrugh Quartet, Contempo will provide chamber music services to RTÉ as the RTÉ Contempo Quartet for three years, starting in Spring 2014.
Speaking today Aodán Ó Dubhghaill, Interim Executive Director of RTÉ Orchestras, Quartet & Choirs, welcomed the announcement: "In 2011 RTÉ reaffirmed its commitment to chamber music, as well as its commitment to the provision of chamber music services from Cork and Munster. At that time we signalled our intention to tender for services. That tender is now complete, following a lengthy process that considered a range of requirements. I would like to pay tribute to the Vanbrugh Quartet, who have played as the RTÉ Vanbrugh Quartet for 27 years. Rightly acclaimed, they defined the standard for chamber music in Ireland and we wish them well in what will undoubtedly be their continued success."
Mr Ó Dubhghaill welcomed the arrival of the RTÉ Contempo Quartet: "With this appointment we open another exciting chapter for chamber music in Ireland. With an exceptional background in performance and education, the RTÉ Contempo Quartet will maintain the chamber music and string quartet presence in Cork while also opening up a new and welcome presence in for RTÉ's musical presence in Galway. I look forward to announcing their 2014 programme in the new year."
The appointment sees RTÉ maintain its commitment to chamber music and the string quartet medium, in Cork and beyond. The RTÉ Contempo Quartet will seek to develop opportunities through a range of activities including concerts, broadcasts, recordings, educational and community workshops, multi-media, digital and social media initiatives at local and national levels.
About Contempo Quartet
ConTempo String Quartet was formed in 1995 in Bucharest, Romania. Recognised as one of the world's top string quartets, ConTempo has won a record of 14 international prizes and performed more that 1,000 concerts all over the world in venues including Carnegie Hall NY, Wigmore Hall, St Martin-in-the-Fields and St John's Smith Square in London, The Philharmonie in Berlin, Max-Joseph-Saal in Munich, Théâtre Châtelet in Paris, The Opera House in Tel Aviv, Musée des Beaux Arts in Brussels, Geidai Hall in Tokyo, The Waterfront Hall in Belfast, Athenaeum Hall in Bucharest, National Concert Hall in Dublin and The King's Lynn Festival (where they performed Elgar's Introduction and Allegro for string quartet and orchestra with the Royal Philharmonic Orchestra).
ConTempo recorded the Adagio from Beethoven's Opus 131 for Steven Spielberg and Tom Hanks' television drama Band of Brothers. They composed and performed the music for the Danish silent film The Abyss. The quartet also took part in the documentary Deutschland, Deutschland, an ORF & Sat3 production about Haydn's and Siegmund Nissel's lives.
In 1999 they took up a Fellowship at the Royal Academy of Music where they taught chamber music classes and worked with some of the most famous quartets in the world: Amadeus, Alban Berg, Hagen, Tokyo and Emerson. Since 2003 they have been Quartet in Residence on the West Coast of Ireland embarking on a unique project, an annual ConTempo Summer Festival, with guest artists such as Emma Johnson, Martin Lovett, Bruno Giuranna, Hugh Tinney, John Feeley and Martin O'Connor.