Press Releases
JIM JENNINGS APPOINTED AS MANAGING DIRECTOR OF RTÉ RADIO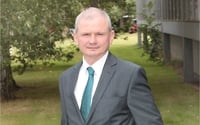 25 October 2013: Following a public competition, Jim Jennings has been announced as Managing Director of RTÉ Radio.
Former Head of RTÉ Radio 1 and Acting Managing Director of RTÉ Radio for the past 6 months, Jim Jennings, 50, has worked in RTÉ for over twenty five years. Jim was Executive Producer of The Late Late Show, and oversaw a revamp in 2006 of the hugely successful Rose of Tralee programme. He edited the critically acclaimed Irish-language series Leargas. Along with a proven grasp of entertainment, Jim has extensive current-affairs experience, as well as having worked as Executive Producer on special broadcast projects like the Special Olympics Opening Ceremony in 2003, Election 2002, and Who Wants To Be A Millionaire?
Jim Jennings started his career in RTÉ Radio 1, where he worked as a researcher on The Pat Kenny Show, Today at Five, Saturday View, and Studio 10. Between 1983 and 1989 Jim worked on seven general elections, as well as over thirty party conferences, for Radio 1.
Jim Jennings, Managing Director, RTÉ Radio says: "I'm delighted and honoured to take on the responsibility to lead the radio division, and RTÉ Orchestras, Quartet and Choirs. My career in RTÉ began in radio over twenty five years ago and radio has always been close to my heart. It's a humbling experience to be taking on such an important role in media in Ireland."
Speaking of Mr. Jenning's appointment Noel Curran, Director General RTÉ, said: "Jim Jennings has a huge range of editorial and management experience and a keen understanding of the unique position of RTÉ Radio nationally. As Head of Radio 1 he saw the station maintain its position as Ireland's most-listened-to radio service, a considerable achievement in a market that grows more competitive by the month. His track record of innovation around comedy, current-affairs and music; his public commitment to finding new on-air voices and his willingness to take risks for the audience, mean that it promises to be an exciting road ahead for RTÉ Radio 1, 2fm, lyric fm, Raidio na Gaeltachta and RTÉ's six digital radio services."