Press Releases
RTÉ, Greenstar & Electric Ireland Team Up To FUEL YOUR SCHOOL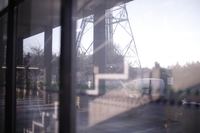 2 September 2013: New Report Shows Greener, Leaner RTÉ Secures €700,000 in Environmental Savings
RTÉ today published a new report, in conjunction with the Environmental Protection Agency and Greenstar, which outlines its environmental progress over the past decade. The report reviews a broad range of environmental initiatives across RTÉ, from waste management to energy and water conservation, which have resulted in environmental related cost savings of €700,000 for the organisation over a ten year period. To mark its publication, RTÉ Radio 1's Mooney programme, in association with RTÉ, Greenstar and Electric Ireland, will launch FUEL YOUR SCHOOL, a nationwide competition offering four primary schools in the Republic of Ireland the chance to win a year's free energy.
Environmental sustainability is an important part of RTÉ's overall transformation. RTÉ has reduced running costs by over €104m between 2008 and 2012. The environmental related savings of €700,000 were achieved through a range of corporate initiatives, which prevented more than 3694 tonnes of waste going to landfill, and elevated recycling rates to 74% for 2012.
Noel Curran, Director General of RTÉ, said: "With increased levels of awareness on environmental issues, as well as the ongoing need to save money, there is a real imperative to become more efficient. We have greatly improved our results in environmental best practice and achieved significant cost savings. I'm proud that RTÉ is not only becoming greener, but also leaner, ensuring better value for our audience."
Commenting on today's announcement, Jerry Dempsey, Commercial Director Greenstar, said: "We are pleased to be supporting this report and the FUEL YOUR SCHOOL initiative. At Greenstar we have a strong focus on environmental sustainability, and we believe school children should be educated and equipped with the know-how to develop practical solutions that will make their local environment a healthier place."
Mr Dempsey continued: "We have been RTÉ's partner in waste management for the past 10 years. It's a great honour to have played a role in assisting the organisation to implement significant changes which have in turn enhanced and transformed the efficiency of its environmental performance."
Jim Dollard, Executive Director of Electric Ireland said "Electric Ireland is delighted to be part of this nationwide awareness campaign through the FUEL YOUR SCHOOL competition.