Press Releases
Director-General Pays Tribute to Nobel Laureate Seamus Heaney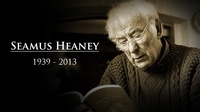 30 August 2013: Director-General Pays Tribute to Nobel Laureate Seamus Heaney
Speaking today Mr Curran said: "It is with great sadness that we learned of the death of Nobel Laureate Seamus Heaney. An artist of immense standing both at home and abroad, Seamus Heaney was not only among the most lauded of writers, he was also among the most read. His achievements as a poet, playwright, critic and teacher, awarded the TS Eliot, Whitbread and Nobel prizes amongst others, speak for themselves. Since the publication in 1965 of the collection Death of a Naturalist, Seamus Heaney shone a light into and onto Ireland and, in a particular way, Irish rural life, charting also our intimate engagements as parents, children, lovers and friends with wisdom, humour and astuteness. RTÉ's own long-standing relationship with Seamus Heaney was one we valued hugely, including the privilege of joining with the national and international celebrations of his seventieth birthday in 2009. His words live now, and will endure, in all our memories. Our most sincere condolences to his wife Marie, and his children Michael, Christopher and Catherine-Ann."
RTÉ today confirmed that tribute programmes will be broadcast across the weekend on radio, television and online, starting tonight at 6.00pm on RTÉ lyric fm with Seamus Heaney: The Real and the Imaginary, a documentary featuring Seamus Heaney's own statements on the relationship between poetry and reality. There will also be an extended Arena on RTÉ Radio 1, starting at 7pm.
This will be followed later this evening on RTÉ One at 10.35pm with the 2009 Charlie McCarthy documentary Out of the Marvellous, an intimate portrait of his life, relationships and influences charting the journey from his early years as a farmer's son in County Derry to international acclaim and the award of the Nobel Laureate. Programmes will be available internationally on the RTÉ Player.
Other planned coverage across the weekend will include a special obituary programme compiled by historian John Bowman, a repeat of an interview between Seamus Heaney and fellow poet Dennis O'Driscoll and an excerpt of an interview with Marian Finucane.
Contact:
Vivienne Flood, Corporate Communications Manager, RTÉ, 087 7457455
Joseph Hoban, Head of Communications, RTÉ, 086 8128662

 
Radio

Seamus Heaney: The Real and the Imaginary presented and produced by Eoin O'Kelly. The programme featured the work of Heaney in light of his own public statements on the relationship between poetry and reality. The poet and his poetry in his own words. This programme will broadcast tonight Friday 30th Aug between 6.00pm – 6.30pm in Liz Nolan's Classic Drive.
Arena pays tribute tonight in an extended programme which will run on RTE Radio 1 from 7.00pm to 8.30pm with a specially selected panel of guests
The Marian Finucane Show on RTE Radio 1 tomorrow morning will feature an excerpt of an interview Marian did with Seamus Heaney and there will be a feature about Seamus Heaney in Sunday morning's programme.
On Sunday morning there will also be the first of a two part obituary programme compiled by broadcaster and historian John Bowman
Arts Tonight on Monday at 10.00pm there will be a repeat of a public interview between Seamus Heaney and Dennis O'Driscoll on the occasion of the publication of O'Driscoll's biography of Seamus Heaney, Stepping Stones, on 13th April 2009, presented by Vincent Woods
On the day of Seamus Heaney's funeral, RTÉ Radio 1 Extra will carry a continuous broadcast of the RTÉ recording of the Collected Poems.
Today with Sean O'Rourke will also provide full coverage of Seamus Heaney's funeral.
Television
Seamus Heaney: Out of the Marvellous, RTÉ One, Friday 30 August, 10.25 pm
An intimate and all-embracing look at the man and the artist. The film explores the key relationships in Heaney's life; that with his wife Marie, and follows him to Harvard, New York and London to readings, signings and public interviews. This documentary digs deep into the rich store of Heaney's poetery to reveal a man who lived his life fully and who used his gifts to give expression to the great themes in all our lives of love, loss and longing and who managed, as a man and as a writer, to combine the simplicity of a farmer's son from County Derry with the sophistication of a major artist. Directed by Charlie McCarthy.

Online
RTÉ Player – Hanly's People
http://www.rte.ie/player/ie/show/1135620/
First broadcast in 1989: David Hanly talks about his early life at home in a divided townland.
RTE ARCHIVES OBITUARY: http://www.rte.ie/archives/2013/0830/471255-seamus-heaney-1939-2013/
Seamus Heaney on Patrick Kavanagh (1967)
http://www.rte.ie/archives/exhibitions/1323-patrick-kavanagh/1325-portrait/335400-on-death-of-patrick-kavanagh/
Writer in Profile: Seamus Heaney (1976)
http://www.rte.ie/archives/2013/0823/469843-writer-in-profile-seamus-heaney/