More
Sport Against Racism Ireland Visit RTÉ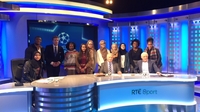 November 27 2015: Recently, under the auspices of the RTÉ Outreach scheme, a group from SARI  (Sport Against Racism Ireland) visited RTÉ.
The 'Diverse City' soccer team is Ireland's first team for Muslim women, having been in existence for just a year, since FIFA lifted the ban on the wearing of headgear.
The team and their coach were greeted by the Outreach team and visited 'Fair City' and 2fm studios where they met Eoghan McDermott.
However, the highlight of the visit – they are soccer players after all - was the set of RTÉ's Champions' League Live where the group stopped for a photo call with Joanne Cantwell, Darragh Maloney, Eamon Dunphy and John Giles .
SARI supports and promotes social inclusion through sport. Further information can be found at www.sari.ie
For more information on RTÉ Outreach, click here.