More
RTÉ Nationwide from the Special Olympics World Games.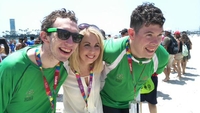 Tonight, Monday 17th August, 7.00pm on RTÉ One, RTÉ's Washington Correspondent Caitriona Perry guest-presents a special edition of the Nationwide programme from the Special Olympics World Games in Los Angeles.
As RTÉ's Washington Correspondent Caitriona travelled to LA for a week in July to cover the Special Olympics, with her reports featuring on programmes such as Morning Ireland, Drivetime, One O'Clock News, Six One News and Nine News TV bulletins as well as providing online materials.
Monday night's Nationwide programme will bring viewers onto the tournament sidelines to witness the passion, emotion, joy and excitement experienced by the 88 members of Team Ireland. We witness the anxious preparation, hear about the extensive training the athletes have undergone and share the unbridled happiness and joy when dreams come true, with the team winning 86 Olympic medals. The programme hears directly from many of the athletes themselves, including golfer Paul Kirrane from Co. Clare, gymnast Ashleigh O'Hagan from Co. Limerick, runner Rachel Ryan from Co. Tipperary, swimmer Keith Butler from Dublin plus many more. We also meet some of proud family members and hard-working coaches, and the volunteers who make the World Games happen. This Nationwide special also features an interview with Special Olympics Chairman Tim Shriver and Special Olympics Ambassador footballer Robbie Keane.
Health warning: Your heart may burst with pride watching these athletes' achievements.