More
Another Score for the RTÉ Concert Orchestra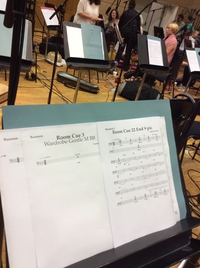 The RTÉ Concert Orchestra and conductor Gearóid Grant worked across the weekend (1st and 2nd of August) in RTÉ's Radio Centre Studio 1, recording the latest score in what has become a line of impressive film engagements.
Film-maker Lenny Abrahamson and composer Stephen Rennicks are regular collaborators and their latest project is the film Room, based on Emma Donoghue's multi-award-winning novel. Abrahamson and Rennicks each addressed the orchestra ahead of recording, saying they could have recorded the score anywhere, and expressing their pleasure at being able to do it in Dublin with the RTÉ Concert Orchestra.
This is the latest in an impressive and high-profile list of film credits for the RTÉ CO. Recent projects include Patrick Cassidy's score for Calvary (nominated for a World Soundtrack Award last year), Ooops! Noah is Gone by Stephen McKeon, Mrs Brown's Boys D'Movie by Andy O'Callaghan, and RTÉ CO Artist in Residence Brian Byrne's scores for Albert Nobbs (which won at the World Soundtrack Awards and the IFTAs and earned a Golden Globe nomination) and for the recent Eileen Gray film The Price of Desire.
Watch:
Six One News piece from Saturday, day 1 of recording session.
Listen:
Lenny Abrahamson on Marian Finucane about the film Saturday, mentioning the RTÉ Concert Orchestra recording the score.