Awards
RTÉ wins Current Affairs Award at AIBs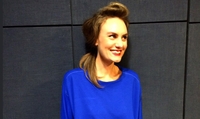 5th November 2015: RTÉ's series Voices has been awarded Best Radio Current Affairs Documentary at the prestigious Association for International Broadcasting Awards (AIBs) in London last night.
Created, written and produced by RTÉ News journalist Evelyn McClafferty, Voices was a weekly digital audio/podcast series, published earlier this year, looking at various issues in society. The series heard the powerful telling of personal stories; every episode, a different story. By giving a platform directly to individuals, the series explored issues and raised questions about who we are and how we live. It featured personal stories on direct provision, suicide, abortion, addiction, obesity, the rights of unmarried fathers and a wide range of other issues.
RTÉ's entry Voices was up against several productions from a number of international broadcasters, including the BBC World Service and the Australian Broadcasting Corporation.
The awards were decided by judges from across the broadcasting world, including CNN, BBC, Vice, Bloomberg, Sky and the Financial Times.
Evelyn McClafferty has worked in radio for more than ten years as a journalist and a programme-maker. "Because of time constraints and the need to report a range of facts and explain issues, too often people's stories are unheard, or cut short. As a journalist, it's the person's story that's of interest to me. I wanted to create a series where there was no narrator or music, attempting to tell people how to feel. I wanted the story and the voice of the storyteller to be a compelling listen.
Radio and audio is my first grá; it's so intimate and I adore how it conjures up different images for everyone. There's no distraction from the voice, from the rhythm, from the story. And that's simply brilliant, when living with everyday bombardment."
You can listen back to the award-winning Voices series here: http://www.rte.ie/voices/