Awards
RTÉ & the IFTAs 2015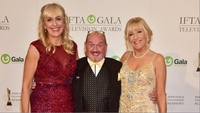 23 October 2015: RTÉ One, RTÉ2 and RTÉjr were successful at the IFTA Gala Television awards last night
For RTÉ One, The High Hopes Choir (produced by Tyrone Productions, Grainne McAleer genre head) won for documentary series; Inside Bungalow 3 (produced by RTÉ's Investigations Unit) won in the current affairs category, while Close to Evil (genre head Colm O'Callaghan) won documentary single.
Enda Oates took the prize for Male Performance in Soap or Comedy for Fair City, while Liam McGrath won best director for Dolores Keane - A Storm in the Heart. Mick Mahon won the editing prize for Rough Rider. Brendan O Carroll received the Lifetime Achievement Award for comedy, following the worldwide success of award-winning Mrs Browns Boys, which also won the award for comedy.
On RTÉ2, the critically acclaimed series Connected (produced by Animo/Kite, genre head Grainne McAleer) won for reality.
On RTÉjr, Our Farm (produced by GMarshTV and supported by the BAI) won in the Children's/Young People's category for live action, while Lily's Driftwood Bay (produced by Sixteen South) won in animation.