Awards
RTÉ Wins Radio And TV Awards At GSK Medical Media Awards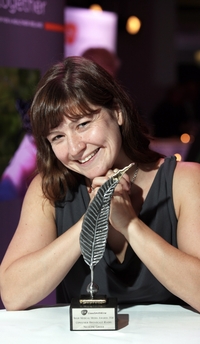 RTÉ won awards for both Radio and TV productions at the GSK Medical Media Awards. "Children in Charge" received the award for best Consumer Broadcast Documentary. The documentary, commissioned by RTÉ from Subotica and produced by Gerry Nelson, deals with the uncomfortable and emotional subject of what life is like when a child is obliged to care for a parent.
Nicoline Greer also won an award for her RTÉ Radio One documentary "In the Same Boat" in the Consumer Broadcast Radio category. The documentary detailed the accounts of women suffering with breast cancer and their courageous response to the disease.
"Children In Charge"
"Children in Charge: Ireland's Young Carers"revealed for the first time on Irish television the reality of what life is like when a child takes on the role of caring for a parent.
Made over the course of nine months, "Children in Charge" director Gerry Nelson and producer Ailbhe Maher crafted a revealing, heartfelt and thought-provoking film, which saw raw and emotional accounts from mothers who find themselves in dilemmas as they ask their child to do chores and help them wash and dress. "Children in Charge" was cited by the judging panel as "a well-paced, beautifully shot documentary dealing with an uncomfortable subject – what life is like when a child is obliged to care for a parent." In it we met 10-year-old Oisin caring for his mother, Ann-Marie, who is battling the physically debilitating disease Multiple Sclerosis (MS). Oisin admits that, "Sometimes I feel a bit sad when Mam's crying in pain". Fourteen-year-old Marita, caring for her mother, Anne, said: "A bad day is when you get loads of homework, if Mom falls and you don't know what to do and then you get into trouble for not doing all the homework". The documentary also observed the life of 19-year-old Shauna in Dublin who has been caring for her ill mother since she was just five years old. And we met 11-year-old Stephen who cares for his mother who is falling more regularly because of her MS.
Niamh O'Connor, Commissioning Editor, RTÉ Factual said:"'RTÉ is absolutely delighted that Children in Charge has been honoured at the GSK awards. A very special and important film, it told stories of courage and humanity about some exceptional young people in our country. Gerry Nelson, Ailbhe Maher and all at Subotica told these stories beautifully, with sensitivity and integrity. Documentaries about real Irish lives are such a vital part of what RTÉ does as a broadcaster and we're very proud to see the work of these programme makers being recognised."
"In The Same Boat"
Nicoline Greer's RTÉ Radio 1 documentary "In the Same Boat" centres on an idea by Dublin woman Fiona Tiernan: a dragon boat racing team for survivors of breast cancer. She had no crew, no boat, no paddles and no money. As a sport, dragon boat racing is non-existent in Ireland. However, just six months later, two forty foot long dragon boats - "Anna" and "Livia" - were filled with a crew of forty women, all dressed in pink, paddling on the Grand Canal Dock in Dublin- the "Plurabelle Paddlers" was launched. This documentary records the journey of these courageous women. The judging panel used the terms innovative, inspirational, positive and optimistic to describe this well-wrought radio documentary on women suffering from breast cancer and their courageous response to it.
2011 Medical Media Awards Judging Panel:
• Dr John Bowman, Chairman
• Ms Eibhlin Mulroe, CEO of Irish Platform for Patients' Organisations, Science and Industry
• Professor Tim McDonnell, Consultant in Respiratory Medicine, St. Vincent's University Hospital Dublin
• Ms Pat O'Boyle, CEO of the Dublin Dental University Hospital
• Dr Illona Duffy, General Practitioner
• Ms Lillian McGovern, CEO of the Maire Keating Foundation
• Mr. Conor Pope, Journalist, broadcaster and author
• Professor Paul Browne, Consultant Haematologist, St. James Hospital Dublin