Awards
RTÉ wins Broadcaster of the Year at International Animation Forum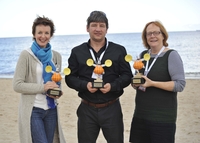 RTÉ was today announced as Broadcaster of the Year at Cartoon Forum - the biggest European Annual event for animation, while Monster Animation, a company with which RTÉ works often, was announced as Producer of the Year.
The awards were voted upon by the 700 attendees, made up of producers, broadcasters and investors and were presented to the recipients today. There was also a third Irish winner – Julie Fox, based in Paris, who was voted best Investor/Distributor.
The awards are part of three Cartoon Tributes awarded each year at the forum which aim to reward outstanding achievements, companies or personalities that have had a positive and dynamic influence on the European animation industry for television over the last year.
Sheila de Courcy, Commissioning Editor, Young Peoples, RTÉ Television, responsible for young people's programming on RTÉ Television and attending the event, said: "I'm delighted to accept this award on behalf of all the talented teams who are dedicated to making programming of the highest quality for children. That the Irish animation sector is producing this world-class work is underlined by the success of the awards today."
Also awarded at Cartoon Forum was Gerard O'Rourke, of Irish company Monster Animation and producer of "Punky", RTÉjr's original new animated television series which tells stories from the everyday life of Punky, a little girl who has Down syndrome.
Gerard O'Rourke was delighted to be presented with the Producer of the Year Award. Gerard said, "I am absolutely thrilled to win this award and I accept it gratefully on behalf of all the team at Monster. The award comes on the back of the new series Punky, which premiered on RTÉjr earlier this year and is now being released internationally at the world's biggest TV market, MipCom, where it has already been tipped as a 'hot pick' by trade magazines."
Sheila congratulated him on his award, saying: "I think Punky represents diversity and is the first animated character in the world who has Down's Syndrome. This recognition is justly deserved. Monster Animation is in Cartoon Forum with its new project Cosmo, astronomy for children which is supported by RTÉ and the Irish Film Board (IFB). It has been considered as one of the best projects and presentations at the forum."