Awards
European prize awarded to Jean Byrne for TV weather broadcast on RTÉ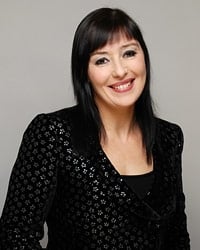 Broadcast meteorologist Jean Byrne has been awarded the European Meteorological Society's 2011 TV Weather Forecast Trophy Award for one of her weather broadcasts on RTÉ Television. The competition is limited to those in the meteorologist profession and all nominations were assessed by a Select Committee of the EMS who chose Jean as the 2011 winner. This is the first time that an Irish person has been awarded this trophy and the presentation will take place during the Media Session of this week's joint EMS/European Conference on Applications of Meteorology meeting in Berlin.
Glen Killane, Managing Director of RTÉ Television, offered his "sincere congratulations to Jean Byrne of Met Éireann for her well-deserved TV Weather Forecast Award. Jean is a highly valued member of RTÉ's weather team and we are very proud that she has earned this accolade. RTÉ's relationship with Met Eireann is an important part of our broadcasting schedule and we are committed to delivering a high quality service. We are delighted that Jean's hard work has been recognised by a European audience at the EMS Awards."
Jean Byrne said that she "was delighted and honoured to receive this prestigious award, coming as it does from a group of my professional colleagues and which recognises the importance of the work that meteorologists do and how we try to give our best service to viewers and listeners".
Born in Tarbert, Co. Kerry, Jean initially decided to study medicine on leaving school but decided that it wasn't for her and applied for a job in the Irish Meteorological service.
Initially employed as a Meteorological Officer, Jean's interest in mathematics led her to study for her degree in Mathematical Sciences in Trinity College, Dublin, from which she graduated with honours.
This qualification enabled her to become a Meteorologist in Met Éireann and following a course in meteorology, Jean was assigned for further training to the Aviation office in Shannon Airport which delivers meteorological services to pilots and airlines.
Afterwards, Jean moved to the Research and Applications Division back in Dublin where she worked on Numerical Weather Prediction Models.
From there, Jean moved to her present position in General Forecasting Division and since 1996 has regularly presented weather on RTÉ.
Outside of work, Jean's hobbies and interests include reading, walking,art and music. She is also an animal lover and, living close to the city centre, loves all that that has to offer, for example shopping and visiting art galleries.