How RTÉ Is Run
Audience Council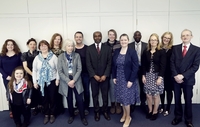 Dedicated to putting the Audience First
"The relationship between the audience and the broadcaster can be very uneven yet good communications between the two are vital for the ongoing development of a truly relevant service. RTÉ is committed to being open to its audience, welcoming all contact, listening to all views, and responding promptly and appropriately. To facilitate communication, and to enhance accountability, RTÉ has decided to establish an Audience Council."
What is the RTÉ Audience Council?
The RTÉ Audience Council is a 15 member voluntary committee that advises the RTÉ Board on specific issues relating to RTÉ's public service remit and audience needs. The committee is appointed by the RTÉ Board, which also appoints one of its members to be part of the council.
How was the audience council selected?
In October, 2016 RTÉ invited members of the public to submit expressions of interest in joining its Audience Council on www.rte.ie and on RTÉ radio channels with a closing date of three weeks. A number of further nominations came directly from members of the RTÉ Board. After a short-listing process a number of people were invited to RTÉ to discuss their ideas and the Board's views of how the Council should progress. The Board then selected 15 people (including the chair), representing a diverse range of interests and backgrounds. A small number of others were placed on a list should we require members in the future.
The RTÉ Audience Council is a requirement of the Broadcasting Act 2009 (S.96), see here.
RTÉ Audience Council 2017
Aengus MacGrianna, Chair
One of RTÉ's most popular newscasters, Aengus joined RTÉ in the mid 1980s, where he worked firstly as a runner in the newsroom. He later worked as a reporter on almost every desk in the newsroom, including Nuacht RTÉ, before being appointed Newscaster in 1999. A regular face on television bulletins on the Six-One, Nine O'Clock News programmes, Aengus is also a familiar voice on RTÉ Radio 1 and RTÉ lyric fm. In 2009 Aengus became Father of the NUJ chapel in the Newsroom and was involved in negotiations on revised pay scales and structures in the Newsroom. He also represented the NUJ at TUG level for almost two years. In 2014 Aengus was elected by staff to the RTÉ Board.
Paula Lynch Marlowe, Secretary
Paula is from Limerick, now living in Greystones she he has a BA in Human Resource Management. Paula joined RTÉ in 2006, her first seven years were with Human Resources team in News & Current Affairs, based in the RTÉ Newsroom. She now works as Assistant Secretary to the RTÉ Board and Secretary to the RTÉ Audience Council.
Jenny Hassett
Born in Cork, Jenny lives in Dublin where she set up an office equipment company with her husband. She is involved in local community organisations and is an associate member of the Rathmines and Rathgar musical society.
Aodán mac Donncha
Aidan is a manager of Comhlacht Forbartha an Spidéil, Co Galway. He has been involved in community development projects for 25 years in south Connemara and the Aran islands. A native of Galway city he is an acquired fluent Irish speaker and very involved in saving the Irish language as a community language in the Gaeltacht areas.
Myles McHugh
Galway city native Myles lives in Oranmore and, until 2012, worked in public transport with CIÉ and Iarnród Éireann His career involved marketing, sales, media relations, customer service and strategic planning. He currently works as an independent business advisor and is a qualified executive and business Coach. He is a part-time lecturer at GMIT, a fluent Irish speaker and very active in his community.
Sinead Burke
Sinéad Burke is a PhD candidate in the School of Education, Trinity College. She is researching the experiences of student voice in the Irish primary school classroom. Sinéad is a primary school teacher, a broadcaster and an advocate. She is an ambassador for the ISPCC and the co-founder of the Inclusive Fashion and Design Collective
Chinedu Onyejelem
Chinedu Onyejelem is the Publisher of Ireland's first and only multicultural newspaper Metro Eireann. He is the author of News in Black and White, and winner of David Manley Media Award 2013. In the late 1990's, he worked freelance for a number of media organisations including The Irish Times, Garda Review, RTE (Morning Ireland and World Report) The Irish Catholic, Medicine Weekly, and the News Agency of Nigeria (NAN). Chinedu joined the now defunct Irish Times website www.ireland.com as a trainee where he worked until mid-2002. Following his departure, he has concentrated on developing Metro Eireann. Chinedu who also won a People of the Year Award in 2006, is presently a member of Irish Department of Foreign Affairs /NGO Standing Committee on Human Rights. He was also a Director of Concern Worldwide for two years. He's originally from Nigeria.
Sinead Cuthbert Cunningham
Originally from Kilbarrack and now living in Balbriggan County Dublin. Sinéad is a qualified internal audit manager in the financial services industry. She is also an international athlete in the Olympic sport of archery, having represented Ireland at numerous world level events. Sinéad is a fluent Irish speaker with a grá for music and theatre.
Aine Mannion
Since moving to Dublin in 2009 from County Roscommon Áine has previously been employed by the Dublin Theatre Festival and the Irish Advocacy Network. They have a long history of volunteering for many charities and arts organisations including being on the executive committee of the International Dublin Gay Theatre Festival. Áine is currently in NUI Maynooth studying Community and Adult Education and is also doing a certificate in Art Therapy with Cork IT.
Sinead Curran
Sinead Curran is a Dublin based visual artist and lecture in Creative Digital Media. She has completed an MA (hons) in Visual Arts Practices at IADT, a BA (hons) in Visual Arts Practices at IADT, a BA in Fine Art at Crawford College of Art, Cork and a BA in Computing at WIT. She has received a number of awards including Rua Red Digital Media Residency, Firestation Artists Studio Digital Media Residency, Create Artist in the Community Award and South Dublin County Council bursary. Her work has been exhibited in Ireland, the UK and Australia with solo exhibitions in Rua Red, Tallaght, Ireland, and Illuminations Gallery, NUI Maynooth. Group exhibitions participation in Tulca 2016, Con-glom-er-ate, Catalyst Arts, Belfast, Artists on Architecture, Tullamore, RHA, Dublin, Expanded Architecture, Sydney.
Anna Farmar
Anna Farmar has spent most of her working life in book publishing, with short periods in journalism and university administration. She is a Dubliner, a graduate of University College Dublin and Trinity College Dublin.
Mbemba Jabbi
Mbemba is the managing director of Jabbi Group Limited, a business and management consultancy company based in Balbriggan. He was a managing director of the Africa Centre Ireland, an African Diaspora led charity based in Dublin. Mbemba's interests are in development education, ethnic entrepreneurship and the integration of diasporas living in Ireland.
Judith Caffrey
Judith Caffrey has a masters degree in fashion marketing and previously worked as a buyer. She changed career focus in 2010, training as a French and English teacher and school guidance counsellor. Judith has been with the Registry at Maynooth University since 2012; her focus is on digital and print communications for prospective undergraduate students.
Marie Bashford Synott
Born in Limerick Marie Bashford-Synnott has lived in Skerries since 1977. Married with four grown up children, she has won prizes for plays and short stories and her poetry has been published in various literary magazines. Marie was awarded an honours M.A. in Women's Studies from U.C.D. in 2000. Her trilogy of historical novels was serialised in 2001/2003. A poetry collection "Skerries Mills" was published in 2006. She continues to write and is actively involved in community activities in the Arts and in the Skerries Historical Society.
Related Links