2000 to Present
Simon Delaney, Keith McErlean and Don Wycherley, stars of RTÉ drama 'Bachelor's Walk'

Actress Julianne Moore with Neil Jordan who directed her in the film adaptation of Samuel Beckett's 'Not I'

Roy Keane talks about the events that led to his departure from Ireland's World Cup squad in Saipan, May 2002

The GAA All-Stars; Jack O'Shea, Dave Beggy and Barney Rock, perform their version of The Full Monty, in the final of RTÉ Television's 'Charity You're A Star' on stage in The Helix, Dublin, 12 August 2007

Ger Ryan as Christine Keegan and Brian McGrath as John Keegan in 'Stardust'

Pat Kenny (right) interviews singer Ronnie Drew just before the performance of 'The Ballad of Ronnie Drew', a tribute to him by well-known Irish singers and musicians, on 'The Late Late Show', 22 February 2008

Queen Elizabeth II bows her head after placing a wreath in the Garden of Remembrance, Dublin, 17 May 2011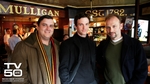 RTÉ Television commissioned a number of new dramas which came to air from 2000 on that attracted both critical and public acclaim. Filmed in the style of a fly-on-the-wall documentary, 'Paths to Freedom' followed the experiences of 'Rats' (Michael McElhatton) and Jeremy (Brendan Coyle) on their release from Mountjoy Prison. 'Bachelor's Walk', a comedy-drama written and directed by Tom Hall and brothers Kieran and John Carney about three single men living in Dublin, featured Raymond (Don Wycherley), a struggling film critic, Michael (Simon Delaney), a would-be barrister who spends more time in the bookies and the pub than at work, and Barry (Keith McErlean), an idle dreamer looking for a get-rich-quick scheme.
Other dramas that offered compelling storylines and resonant drama for Irish audiences in the 2000s were: 'On Home Ground' (2002), 'The Clinic' (2003), 'Love is the Drug' (2004), 'Foreign Exchange' (2004), 'Single Handed' (2007), 'Fallout' (2005), 'Pure Mule' (2005), 'Prosperity' (2007), 'Eden' (2007), 'Raw' (2008) and 'Love/Hate' (2010).
An Irish version of the hit British game show Who Wants to be a Millionaire? was aired on RTÉ One from 2000 to 2002, with Gay Byrne in the quizmaster's chair.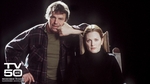 The first broadcast of the Beckett on Film series of adaptations of the complete collection of Samuel Beckett's dramatic works took place in 2001 on RTÉ Television, following its earlier launch and cinema release. Directed by a line-up of internationally acclaimed, award-winning directors, it was a co-production between RTÉ, Channel 4 and Bord Scannán na hÉireann/The Irish Film Board.
In March 2001, a new Broadcasting Act was enacted, which included new obligations around accountability measures for RTÉ.
May 2001 marked the final broadcast of Glenroe on RTÉ Television. Such was the public response to the series being discontinued, the then Managing Director of Television, Cathal Goan, went on 'The Late Late Show' to defend the decision.
Sub-titling of RTÉ Television news was introduced in 2001.
Give Up Yer Aul Sins, an animation produced by Brown Bag Films for RTÉ Television, was nominated for an Oscar for Animated Short Film in 2002.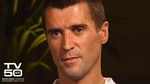 Sport proved to be a consistently huge draw as RTÉ Two showcased our most significant and decisive national and international sporting events: Roy Keane, Mick McCarthy and the Saipan scandal at the 2002 World Cup; the historic Six Nations meeting of Ireland and England in Croke Park in 2007; Kenny Egan, Paddy Barnes and the late Darren Sutherland bringing home boxing medals from the Beijing Olympics in 2008; the World Cup Qualifier play-off between France and Ireland in November 2009 which will be forever remembered for Thierry Henry's infamous handball; Ireland's glorious grand slam win in March 2009 against Wales in Cardiff; the All Ireland Football Final of 2005, in which Tyrone stopped Kerry winning their second final in a row; Tipperary preventing Kilkenny from winning an unprecedented five-in-a-row All Ireland Hurling championship in 2010; and Dublin's momentous All Ireland Football Final win over Kerry in 2011.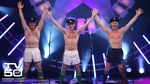 October 2002 saw the first broadcast of You're a Star on RTÉ Television, the text-voting talent show to select Ireland's Eurovision entry. Produced by ShinAwil Productions for RTÉ, the live talent show format proved to be a huge ratings hit on RTÉ Television, running for six series. 'The All-Ireland Talent Show' followed and now we have 'The Voice of Ireland'.
In January 2003, Stories from The Twin Towers, an RTÉ News documentary by Caroline Bleahan and Jim Fahy, won the Gold World Medal for the top 9-11 documentary at The New York Festival's 45th annual Television Programming Awards ceremony.
Structural reform in RTÉ in 2003 created new Integrated Business Divisions (IBD): Television, Radio, News, Publishing, Network and Performing Groups.
In June 2003 Cabin Fever, RTÉ's reality TV ship sank. Cabin Fever was a reality game show located on a 90-foot, two-mast schooner. Ten contestants embarked on a sailing trip around the coast of Ireland in the tall ship named 'Cabin Fever 1'. During the eight-week voyage, the contestants were given challenges and tasks to complete. Each week, the public voted for their favourite contestant; the person with the least number of votes was eliminated from the game and the chance to win €100,000. Five days after the first programme was aired, 'Cabin Fever 1' ran aground on rocks off Tory Island near the Donegal coast. Thankfully all the contestants and crew were brought safely ashore. A new ship, the 'Johanna Lucretia', was brought in and six of the contestants opted to carry on in the competition.
The RTÉ Audience Council was announced in November 2003.
From Buntús Cainte in the early days of Telefís Éireann, there have been many Irish language learning series down the years. In 2004, Sharon Ni Bheoláin presented a lively mix of reports, interviews, music, song and dance in Turas Teanga. An innovative multimedia language course, 'Turas Teanga' comprised 20 television programmes, a radio series, a book, three audio CDs, two DVDs and website.
In 2005, a Prime Time special report on the state of nursing-home care prompted a national debate on how the elderly were being looked after in some residential faciliites. Using a hidden camera, 'Prime Time' reporter Cathal Gallagher, a qualified care worker, filmed shocking conditions and work practices in the Leas Cross nursing home at Swords, Dublin. 'Prime Time Investigates - Home Truths' won the best current affairs programme at the Irish Film and Television Awards for 2005. The top rating 'Prime Time Investigates' of the decade was a report on developers called 'Carry On Regardless' in December 2010 which had an average audience of 732,400.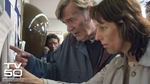 Commissioned to be broadcast in February 2006 – the 25th anniversary of the Stardust disaster - Stardust was a two-part, factually-based drama based on the book 'They Never Came Home' which was published in 2001. Depicting the lead up to, the night of, and the immediate aftermath of the fire in the Stardust disco, it was written for the screen by Paul Walker and directed by Ciarán Donnelly. Produced by Brackside/Merlin Films for RTÉ Television, it was watched by over 670,000 viewers. Other factually-based dramas produced by RTÉ were 'No Tears' (2002), 'Holy Cross' (2003), 'Omagh' (2004) and 'Whistleblower' (2008).
A General Scheme for the consolidated Broadcasting Bill was published in 2006; the subject of the first ever e-consultation process in Irish legislation.
In 2008 Dustin the Turkey was chosen as Ireland's Eurovision entry after winning Ireland's national song contest by public vote in 2008. His selection caused some debate. Sadly, Dustin failed to get beyond the semi-final of the Eurovision Song Contest in Serbia.
One of the highest-profile Irish Language successes of recent years was 2008's In the Name of the Fada with comedian Des Bishop. Broadcast in the comedy slot on Thursday nights on RTÉ One, the series was hugely popular and led to a meeting between Bishop and the then Minister for Education as well as the release of an Irish Language Rap and a DVD of the show.
RTÉ Player, a live and catch-up web TV service from RTÉ, was launched in 2009, giving Irish and international broadband users the opportunity to watch their favourite RTÉ shows for up to 21 days after their original broadcast. It has been a huge success since its inception - in November 2011 for example, the RTÉ Player delivered over 3 million streams.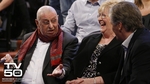 In 2009, Pat Kenny announced that after 10 years presenting The Late Late Show, he was stepping down at the end of the series. Thirty-six-year-old broadcaster Ryan Tubridy would become the new presenter.
In early 2011 'Departure Day', a documentary depicting the new wave of Irish emigration, captured the mood of the nation with an average audience of 674,000 tuning in. A follow-up, 'Arrival Day', aired later that year.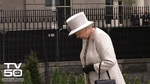 May 2011 was an extraordinary month for news on RTÉ. A single week saw visits by President Obama and Queen Elizabeth II, as well as the state funeral of former Taoiseach Garret FitzGerald. Accompanied by the First Lady, US President Barrack Obama landed in Air Force One at Dublin Airport just before 9.30am and the nation was glued to the rolling coverage on RTÉ of the visit to his ancestral relatives in Moneygall, County Offaly and of his appearance at the public event in College Green. The Nine O'Clock News that day averaged 778,000 viewers.
May 2011 also saw loveable duo Jedward representing Ireland in Eurovision in Dusseldorf, Germany. Jedward came eighth and gave the nation a welcome boost in the midst of a biting recession.
The 'Late Late Toy Show' in December 2011 was the most-watched programme on Irish Television in 17 years, viewed by an average of 1,414,000 viewers.