Episode 5: White Smoke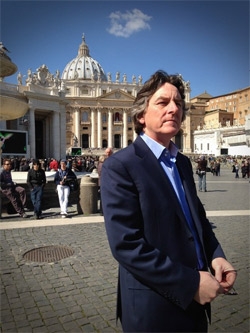 RTÉ One, Sunday 31st March, 10.30pm
Pope Francis' mission is to make the message of a fractured, 2000 year old Church relevant and meaningful, not only for the world's 1.2 billion Catholics, but for people of other faiths and none. Mick Peelo asks what that means in practical terms and how on earth one man can even begin to fulfil that challenge.
Pope Francis inherits from Pope Benedict XVI a full and challenging in-box, which will test all his skills as a bridge-builder - the literal origin of the word "Pontiff." The Catholic Church regards itself as the Body of Christ on earth and the guardian of Christ's teachings, and so the first gap which the new Pope must bridge is between that ideal and the all-too-human reality of the Church's leaders and membership.
Can he make of the Church's 1.2 billion members a unified "People of God," as Vatican II hoped? Can he forge relations with people of different faiths and none, so that the Catholic Church is universally respected as a force for good in the world? Can he embrace the hurt and aspirations of those who feel marginalised or alienated by the Church - e.g. many women, lesbians and gays, divorcees, survivors of clerical abuse, the poor and persecuted? And can he realise the manifesto of Jesus' Sermon on the Mount: to comfort the challenged and challenge the comfortable?
Before, during and after the conclave, Mick Peelo was in Rome to hear from leading Catholic thinkers about their hopes and expectations and to witness Pope Francis at work in the first days of his papacy.