Warhammers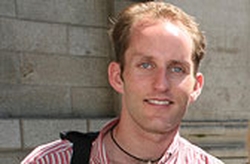 Damien Moran has great hope for the Irish Church: "There's a new Church that is going to grow in Ireland. The Laity are empowering themselves. The age of clericalism and the age of abusing power is now over."
After finishing College Damien believed he had a vocation to the priesthood. He took the traditional route by joining the Holy Ghost fathers in the late 90's but by mid 2003 he was in jail for damaging a US warplane at Shannon. His vocation hadn't changed. It just took a different turning.
This is the story of Damien's inner struggle to understand his Catholic faith and his calling to priesthood and how that manifested itself in a political action that threatened his very freedom. Over the last three years he has been on trial for criminally damaging a US warplane at Shannon. He has denied the charges on the grounds that his action was saving lives. Damien has been fully supported by the Bishop of Clonfert, Dr. John Kirby, who attended the trials. "I know that he(Damien) is fully motivated by the gospels and by the whole teaching of Christ," said Dr Kirby. "I would feel myself aligned with the late Pope John Paul, aligned with the whole notion of turning swords into ploughshares and for that reason I decided to support(Damien)."
Damien has left his studies to become a Catholic Worker - an activist inspired by Gospel values to bring about peace and justice by 'beating swords into ploughshares'. In July 2006 he was acquitted by a unanimous verdict and he remains defiant: Along with his follow Catholic Workers he has threatened to peacefully and non-violently close down Shannon because the government continues to support the illegal war in Iraq by allowing US troops and planes access to facilities at the airport. This, he believes, is what his faith is all about.