Unspeakable Crimes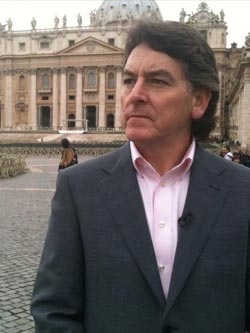 Just when the Irish bishops were beginning to come to grips with how to deal with the clerical sexual abuse problem, Rome intervened and tried to enforce Vatican policy which put the interests of the priest, not the victim, first.
In a strictly confidential letter seen by WYB, the Vatican threatens the Irish bishops that if they follow their new child protection guidelines it would support the accused priest if he were to appeal to its authority.
The letter tells the Irish bishops that the Vatican has moral reservations about their policy of mandatory reporting and that their guidelines are contrary to canon law.
In 1999 the Irish bishops were called to a meeting at the Congregation for the Clergy in Rome and told by the Cardinal Prefect, Castrillon Hoyos, to be "fathers to your priests, not policemen!"
Vatican policy in relation to clerical abuse put the Irish Bishops in direct conflict with Rome. The Vatican has never acknowledged that it was a major part of the problem and that it obstructed bishops who were trying to deal with clerical abusers.
On at least two occasions the Vatican overturned decisions by Irish Ecclesiastical tribunals that recommended laicising abuser priests. Vatican policy put children at risk.
The programme cites the case of notorious paedophile priest, Tony Walsh. He was found guilty by an Irish Church court but appealed to Rome and while his case was being considered by the Vatican, he abused another child. In the programme the mother of that child blames the Vatican for the abuse of her son. The programme also cites another case where an Irish Archbishop threatened to resign after an alleged abuser priest's appeal was upheld by the Vatican.
Would You Believe? demonstrates that there was a culture within the Vatican that put the rights of abuser priests over and above the rights of victims and their families. Even the Pope himself and his Secretary of State, Cardinal Bertone, when they led the Congregation for the Doctrine of the Faith, did exactly what the Irish Bishops are today being blamed for doing: they did not follow the long established norms of canon law, and they put the reputation of the Church and the avoidance of scandal over the concerns for the victims.
But one senior Vatican official began to realise the gravity of the problem and the difficulties bishops were having with the culture within the Vatican. Since 2001, despite opposition from senior prelates, Cardinal Ratzinger has personally taken this issue and instituted significant changes in policy and canon law to tip the balance in favour of the victims. But has he done enough? The Vatican has yet to acknowledge its contribution in creating the problem in the first place.
The programme asks, as the Visitations are taking place in the Irish Church, can real and lasting renewal happen if the questions are not being asked about the Vatican's role in this sad, sorry saga?
Programme includes interviews with Bishop Michael Smith; Dr Marie Keenan; David Quinn; Fr. Aidan McGrath (Canon lawyer); Bryan Maguire (survivor) and Frank Rocca (Vatican Correspondent)