To Love Again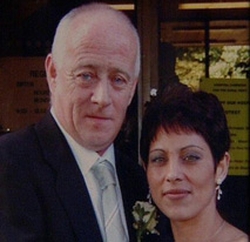 Kevin and Maria Skelton
Click here to watch this programme...
"Finding love once is a blessing, to find it twice is truly a gift"
In 1998 Kevin Skelton's family was literally blown apart when a bomb exploded on the main street of Omagh killing his 39-year-old wife, Mena and seriously injuring his 13-year-old daughter Shauna.
In the year following Mena's death, in a bid to honour the memory of his wife, Kevin went to Romania to follow through with the adoption of a little girl called Andrea.
But when he arrived at the orphanage he discovered Andrea's mother Maria waiting for him, alarmed that he had come to take her child away. It turned out that Andrea was not an orphan but had been put into temporary care because her mother Maria could not afford to look after her.
A friendship ensued and after several trips back and forth to Romania love blossomed for Kevin and Maria. The couple got married last year and now live happily in Omagh with Andrea who is 21 this year and their daughter 2-year-old Gabriella.
Speaking to Anna Nolan on Would You Believe, Kevin shares his extraordinary story and his long and painful journey from abject loss to finding love and happiness again.