The Stolen Years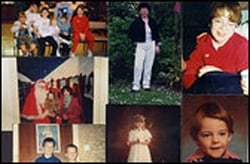 This week Would You Believe tells the story of Kildare women Eilish Enright who was imprisoned for incest and abusing her children but always proclaimed her innocence. She fought for years through the courts eventually winning an appeal against her conviction, but at what cost to her family ?
"One day I was at home making the dinner, watching Coronation Street, waiting for the kids to come home from school. And then next I was in prison for the abuse and molestation of my own children whom I would never see again". The words of Kildare woman Eilish Enright.
In 1991 Kildare woman Eilish Enright's world was turned upside down by a knock on the door at her home in Wales. The events that followed would destroy a family and steal from them their most precious years.
Her husband was arrested and found guilty of sexually abusing two of his step children. Immediately all the children, aged from 3 to 13, were taken from Eilish and put into foster care. Just weeks later things got much worse, when Eilish herself was arrested and subsequently charged and convicted for incest and indecent assault of her own children.
Despite furiously denying all the charges Eilish was sentenced to six years imprisonment based on evidence given by two of her own children. She was sent to Cookhamwood prison, waking up to find Moira Hindley as her next door cell mate. A long battle was to commence as Eilish began to fight for herself and her family, always proclaiming her innocence.
Eleven harrowing years later, having served her sentence in full, Eilish Enright stood on the steps of the Royal Courts of Justice in London with a huge smile on her face. She has just won her appeal against her conviction. This is the story of how one woman took a stand against the Criminal Justice system and won her battle. But at what cost to her and her family?
"I'm not bitter about anything. In my heart I always knew the truth would come out, I just wasn't sure how it would happen. I can't afford to carry hate...this story has already taken away too much from me. I won't let it take what happiness is due to me"...Eilish Enright.2006.

Helpline:
If you have been affected by the issues raised in the programme you can contact National Counselling Service for Adults who have Experienced Childhood Abuse. The HSE provides a National Counselling Service for adults who have experienced abuse in childhood. This is a free, confidential counselling service available nationwide.

If you wish to speak to a counsellor tonight you can call our helpline on:
Republic of Ireland: 1800 234 111
Northern Ireland & UK: 0800 235 235 55

Lines are open now until 10.00pm tonight and during regular office hours.
Related book:
Name: TRIUMPH OVER TRAGEDY
Author: TRINA REA
Publisher: GILL & MACMILLAN