The Preacher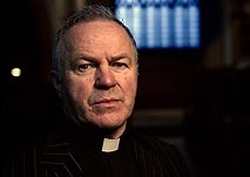 Chris Hudson
Chris Hudson has come a long way. Hairdresser, actor, postman, writer, and union organiser have just been some of the jobs he's taken along his journey to the All Souls Non- Subscribing Presbyterian Church in Belfast.
A lifelong quest to fight for peace, to stand up for the underdog, and to confront men of violence has seen Chris honoured by Queen Elizabeth. Some might say royalty is strange company for the son of an IRA man who idolised Eamon de Valera and pledged his life to Fianna Fail. But then, nothing about Chris Hudson is predictable.
That's not to say he's inconsistent. Hudson's Aunt Molly, a Franciscan nun, believes Chris was nothing when he was a communist but has found sanctuary at last as a Unitarian Minister. His wife Isabella considers his exploration of "the human condition" to be his best and final cause. The non-conformist has found his natural home.
The restless trouble maker now has a pulpit. His proud little church is a magnet for free thinkers in a city of closed minds. His mission now is to reach out to "fellow travellers" searching for meaning in this crazy, wonderful world. Hudson's path to spiritual wisdom has charmed his flock of Ulster Dissenters, so much so they elected him to be their minister.
It's been a long way from Dun Laoghaire to the Lisburn Road. But it has been fun along the way, as Chris tells reporter, Anna Nolan.