Soul Mates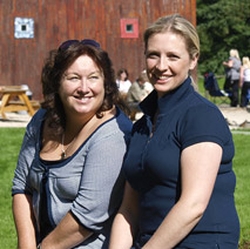 Sharon Murphy and Anna McGroddy
Click here to watch this programme...
On July 6th 2004, two families from different ends of the country were given the tragic news that their children, two bright and bubbly five years olds, would die from the same type of inoperable brain tumour. For the Mc Groddy's from Mayo and the Murphy's from Dublin, the 6th of July 2004 was the day their world's fell apart. This is the story of how Fate brought the two mothers, Sharon Murphy and Anna McGroddy together. 'The moment I saw Anna, I knew she was the other mother because the look on her face was exactly how I was feeling inside', says Sharon as she explains how she went up to Anna McGroddy in a corridor of Crumlin hospital and put her arms around her on that terrible day.
As the five year olds, Rachel and Eoin became weaker, both families formed a special bond, it was a bond that led to the formation of the group, Anam Cara. Even in the face of their own personal tragedies, the mothers, Sharon and Anna got through the loss of their children by reaching out to other parents. Anam Cara aims to provide support, understanding and information to families who have lost a son or daughter by accidents, serious illness, congenital illness and suicide. 'Sharon is definitely my 'anam cara' (soulmate),' says Anna, 'I'm so glad she's in my life though I would give up Anam Cara and our friendship if we could have our children back but that's not to be.'
Rachel Murphy and Eoin McGroddy's passed away within months of each other, SOULMATES is an intimate and moving account of their last days and their families journey though the pain, devastation and loneliness of their loss. As Rachel's obituary states 'Grief is a wall between two gardens' .
Website: www.anamcara.ie