Song for My Son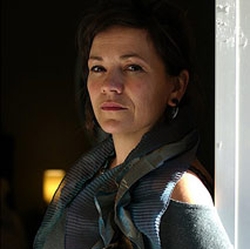 Mia Parsons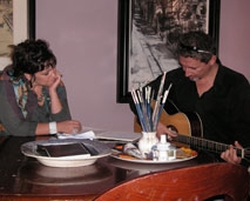 Mia Parsons, a singer songwriter from Kilcoole has dealt with her past sorrows by putting her story into verse. 'Song for my Son' written this year is about her search for the baby she gave up for adoption twenty six years ago. Mia was 17 and still in school when she became pregnant in 1981. Her parents decided that the baby should be put up for adoption and were upset for her bringing shame on the family. Mia agreed. They contacted an organisation called Ally which placed single girls into family homes away from their own area. Mia was sent to stay with a family in Blanchardstown to await the arrival of her baby. Although the family were friendly, Mia felt lonely and isolated and her parents never came to see her in all the time she was there.
In October 1981, Mia gave birth to a baby boy in Holles Street hospital. She gave her son the name Paul Graham and looked after him for five days. She spent most of the time crying, knowing that the decision to give him up for adoption had already been taken. She says she still remembers the day she walked away from his cot and down the steps of the hospital to return home to her parents who behaved as though nothing had happened. After a period of six weeks, where Mia saw her son twice (which she found heart-breaking), she had to travel into town on her own to sign the adoption papers. Mia was giving up all rights to her child - a huge decision for a young woman to make and one in which she felt she had no support. 'I felt like I was a taxi delivering a wonderful gift to these adoptive parents'.
Two years later and still single, Mia deliberately became pregnant again. By now she had a flat and was independent. She told her parents that this time she could look after herself. She had a daughter, Clare, and 14 months later a son, Jake. In 1987, she married and had another son. Now that she knew what it was like to be a mother, she started thinking more about the son that she had given up, about all the times she should have been there for him. When he was 13 years old, Mia contacted the agency that had organised the adoption, to enquire about him. Their initial reaction was to say that she had never shown any interest in him before (as she says, 'because she didn't want to interfere in his life'). The agency also informed Mia of their policy on natural mothers searching - they must wait 23 years.
In 2004, twenty three years after the birth of her son, Mia again went back to the agency. She asked them to let her son know that she was there if he ever wanted to make contact. She also asked them again how he was and was told that he was fine and 'very stylish'. She believes they might not have passed on her message. Meanwhile she put her name on the Contact Register for adopted people and their natural parents. Mia stresses that she doesn't want to intrude into her son's life but just wants to know that he is well and happy. In the same year, Mia's daughter, Clare - herself a single Mum - gave birth to a daughter, Ellie May. Clare and Ellie May live with Mia while they are awaiting a council house. Mia's other children; Jake and Charlie also live at home as does Winnie, the family dog. Last year, as Mia organised homes for Winnie's pups, one man happened to say from the doorway, 'say goodbye to your Mummy'. This reminded Mia of saying goodbye to her son and brought the whole thing up again. As a result of this she wrote her song 'Song for my Son'.
The song has its premiere on WYB and is performed at an intimate gig in a friend's house. We also follow Mia on yet another trip back to the agency with yet another letter expressing her wish to find out some information on her son. Eventually Mia gets some news that turns her world upside down.
Mia in collaboration with jazz musician, Drazen Djerek, will be performing with a live band at a concert in the Pavillion Theatre in Dunlaoire on Nov 27th. Mia has a burning wish that somehow her son makes it to the gig, 'then I know the song will have come full circle and I can sing it to him...'
The Adoption Board have records of 47,000 adoption orders in this state since 1952. At present approx 2,000 natural mothers and 4,000 adopted adults have made contact with The National Adoption Contact Preference Register which was set up in 2005. The Adoption Board is hoping to re-launch the register with an advertising campaign that will take in Britain and America in the hope that more natural mothers in particular will come forward. So far, there have been 400 successful matches on this register. But there are still 41,000 adoptions in Ireland where no contact with either party has taken place.
Click here for additional programme information....

RTÉ is not responsible for the content of external websites.

Information for this Sunday's Would You Believe is also available on page 706.