Something about Trish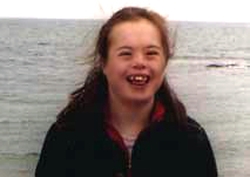 Trish Carney
This week Would You Believe tells the story of Trish Carney, a truly exceptional young woman who hit the headlines earlier this year when she got honours in three ordinary level subjects in the Leaving Certificate, including an A1 in History. Trish's achievement is so significant because not only does she have, as she describes it herself, a little bit of Down's Syndrome, but throughout her twenty one years, she has also had to deal with severe congenital heart and bowel problems.
Nevertheless, with the help of her close-knit and loving family, and devoted set of friends, Trish has always been determined to live her life to the full and push herself to the limits of her abilities.
According to Trish's former school principal, "It's impossible not to relate to Trish in the sense that you're witnessing somebody who's overcoming difficulties and how can anybody not relate to that? We wanted her to succeed because there's something in Trish that's in all of us, the having to overcome obstacles, the desire to be accepted.and that's why she brought out the best in all of us, teachers, parents, students and that's why there's an enormous bond of affection for her."
Something About Trish follows Trish from the excitement of the day she received her Leaving results, to her groundbreaking first day at college, and throughout her planning for the much-anticipated deb's night. According to her mother Pat, "She'll be a bit like Cinderella, if she lasts until midnight, and that'll be enough for Trish. She'll be so happy to have been part of it, to have made her debs with her friends. It'll be like her dream come true, you know; I think it's very special."