The Soldier's Song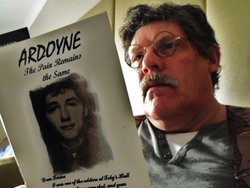 Colin Demet
When Teresa Watts got up to see the former British soldier out of her Ardoyne home, her parting words were:
Hopefully you'll get peace out of it, you can get some rest. Your conscience is clear, you have nothing to worry about. I hope I get what I need - for somebody to say my brother Jo Jo was an innocent man. He didn't do anything wrong
For the past 38 years Colin Demet has lived knowing that the actions of a foot patrol he was part of as a British soldier in Belfast in 1971 resulted in the death of an innocent man, in a community hall in Ardoyne in north Belfast. Teresa Watts the dead man's sister was dancing with her brother when the soldiers started shooting.
That night, December 10th 1971, was to become a defining moment in Private Colin Demet's life. Not long afterwards he felt he had no choice but to desert the British Army. This was a momentous decision which potentially put his life at risk. Surrendering himself to a stranger in Ardoyne, he was ultimately brought to Dublin by the official IRA where he participated in a televised press conference, speaking out against what he had witnessed.
In the end the British Army court marshalled him and sentenced him to seven years in prison. These days he lives an almost reclusive life on the Isle of Lewis off the north west coast of Scotland.
Colin Demet has made the journey back to Belfast. He has walked the streets of Ardoyne and revisited his time there full of nerves and with a lingering sense of guilt. His journey takes him to meet Teresa Watt - it was an encounter that may mark a new beginning of a new stage in both their lives.