Sleeping with the Enemy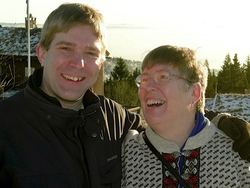 Kari and her son Roger
Kari Rossvale had a dark and difficult start in life. Born to a German father and Norwegian mother, she was part of the Nazi programme to perfect a Master race, the Lebensborn programme.
German officers were encouraged by Himmler to impregnate Aryan women, (Norwegians were a particular target), in order to create perfect Aryan offspring. At ten days these tiny babies were taken from their mothers to castles in Germany for "education" and rearing. When the Nazis were defeated in 1945, these children became outcasts, reminders of Norwegian collaboration with the enemy.
Kari was placed in an orphanage in Sweden, but at school she was made aware of her despised origin. After a turbulent life, much of it spent searching for her mother and father, Kari has found happiness with her husband Sven in Ballinteer in Dublin.
"At last I have come home," she says. This is a heart-rending story of how women and children are often the tragic victims of war. It also marks a fitting start to RTÉ's contribution to multi-cultural week which runs from April 6th to 12th.
This Would You Believe programme is being broadcast in support of Interculturalism and Anti-Racism Week, (April 7th-14th).
This week is part of the European Year of Intercultural Dialogue (EYID), see ( http://www.interculturaldialogue2008.eu/ ) and is being organised by the National Consultative Committee on Racism and Interculturalism (NCCRI), see ( http://www.nccri.ie/index.html).