Saved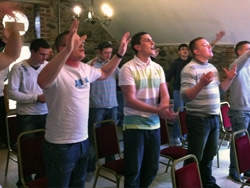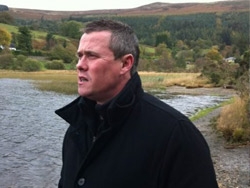 RTÉ One, Sunday 27 November, 10.35pm
Saved tells the extraordinary stories of those whose lives of addiction, destitution and despair have been transformed by Teen Challenge, a 'Born Again Christian' Rehabilitation Centre.
Paul McMahon, Niall Murphy and Karen Douglas have many things in common. They are all recently engaged to be married, have fulfilling jobs and are Born Again Christians. But they were all once addicts and share a common history of addiction, homelessness and despair. They owe their new lives to the redeeming power of the love of Christ which transformed their lives during their 18 month stay at the Teen Challenge Centres in Tiglin and Newbridge.
Like a character out of RTE's drama series Love Hate, Paul Mahon's life was one of robberies, extortion, and violent crime. He became a drug addict at the age of 20, and spent most of his youth in and out of prison. The life of crime and addiction 'led me to places where I nearly lost my life twice, was shot and wounded several times and brought back to life twice. It led me to a place of isolation and despair' He still carries scars from a prison attack where he was cut from ear to mouth and he carries shrapnel in his arm. He spent months is 23 hour lock up. '
Niall Murphy became a gambling addict at 17 years of age. Drugs and drink addiction followed and by his mid 20s, Niall's life had spiralled out of control. He ended up homeless and found that the life of a homeless addict was one of despair and heartbreak. 'I started to think about taking my own life, death became an option', he says. Niall was several times brought back to life from drug overdoses.
Karen Douglas married into an abusive relationship in her late teens. After her son was born the abuse got worse. Soon she was drinking to ease the pain. But when her drinking became addictive she lost her job and her home. When her son was taken into care, she lost hope and found herself in a recovery unit after a suicide attempt. For many years she lived a life of despair and hopelessness.
At the point when their lives lacked hope and meaning, Paul, Niall and Karen were introduced to Teen Challenge and to the message that Christ loved them and through His death on the Cross and His Resurrection, they too could be saved. Paul, Niall and Karen spent at least 18 months in the Teen Challenge Rehab Centres which aim to give recovering addicts a reintroduction to the disciplines of ordinary life, personal counselling courses and lifestyle, computer and literacy skills courses to set them on the path to independent living.
But although the Teen Challenge programme is well grounded in practicality, it is first and foremost founded on the message 'Jesus Saves'. Niall talks of the day he went on his knees in his room in Tiglin and asked Jesus into his life. The next day, Niall tells us, 'I looked into the mirror and I knew something supernatural had happened. I was born again. Jesus has taken Niall the drug addict into the grave and a new Niall Murphy is born'.
These are just some of the many and moving stories of despair and redemption to be told on Saved, Would You Believe RTE 1 Sunday 27 November at 10.35pm