Robert Hasten Slowly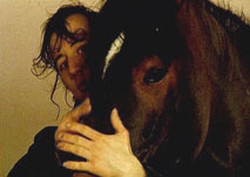 Robert Acheson Jr
Anna Nolan spends time with a troubled teen who has ADHD but finds solace and coping skills at an unusual equestrian centre in Bray.
Robert Acheson Jr. prefers horses to people.
"I've more respect for them than I have for humans!"
Together, Anna Nolan and Robert explore the ways in which contact with the equine world has helped Robert cope with his ADHD or Attention Deficit Hyperactive Disorder.
"...sometimes the way Robert behaves upsets people. He can't help it - it's the way he was made!"
- Anna Nolan.
It's a lonely world for the ADHD sufferer, with little social interaction. For the sufferer, it can seem like you're under scrutiny from the public and sometimes the authorities for the way you behave.
When he was first diagnosed, Robert's parents found there was little information from professional sources and gained most of their insights into his condition from other parents in similar circumstances. In the years that followed, they learnt from their own, often distressing experiences.
"...even to this day they haven't adequate facilities."
- Robert Acheson Senior.
His parents struggled to secure him an education. Robert was turned away from school after school.
"...as soon as you mentioned the word hyper, they didn't want to know!"
- Siofra Acheson
One school told Robert's mother, Siofra, that schools had to look after their gifted children.
"My response to that was 'all children are gifted"
- Siofra Hasten
It took a remarkable, equestrian centre in Bray, Co. Wicklow to reveal Robert's gift with horses, revelations that brought about considerable changes in his social and communication skills. It is known as 'The Festina Lente Centre' the Latin phrase which translates as 'to learn faster by learning slowly'.

With the help of dedicated staff, Robert emerged from 'the grey area,' a sort of dumping ground that those with behavioural problems often find themselves, once they are beyond school age.