Redemption Songs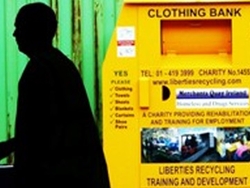 They may have carried guns, robbed banks, stole handbags, shoplifted but today they are redeemed people all because of a clothing bank.
Some of these people carried guns, robbed banks, stole handbags, shoplifted. What they have in common is that they are recovering addicts working at Liberties Recycling, a factory that recycles clothing. But it's no ordinary factory. It was founded by Philip Moloney who witnessed the destructive impact of the drugs epidemic on inner city Dublin in the 1970's. He saw the need to provide jobs for recovering addicts so that they could be trained for future employment and retrieve their dignity at the same time.
Philip's family were in the second hand clothes trade for generations. Seeing his brother John caught up in the vicious cycle of drugs and violence and the impact it was having on his community Philip felt he had to do something. It was through the 'rag trade' that he saw the possibilities for ex drug addicts to be rehabilitated. He set up Liberties Recycling, a community based recycling and training programme. 'There's more to this than clothes. We are recycling lives here. Peoples lives are being recycled its not just clothing!', says Philip.