Positively Frank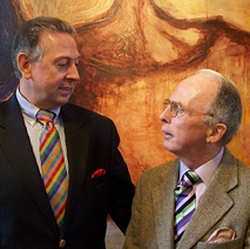 Michael Burns and Frank
The story of Frank Buckley of FX Buckely fame, ex Jesuit priest, Patron of the Arts and homosexual who found love after discovering he is HIV +
"When Michael proposed a relationship I told him the first person he should talk to was my doctor." Frank and Michael are now 13 years together and one of the few gay couples who have celebrated a civil union in Ireland. They had a civil partnership in April this year at the British Embassy in Dublin. Frank is quick to say that it wasn't a wedding as he and Michael believe marriage is for heterosexuals and they both see the family as the core unit in society. Frank never thought he would find love again after he was diagnosed HIV positive and given 2 years to live. That was 16 years ago and he attributes his longevity to advances in medical treatment but more importantly to Michael. "I wouldn't be alive if it wasn't for Michael."
Frank, the son of famous butcher and hotelier FX Buckley, was a Jesuit priest teaching in Gonzaga when his crisis of faith came to a head. He'd always remained true to his vow of celibacy and felt hurt by his Churches attitude to gay men and priesthood. But it was his difficulty with the fundamental teachings on the resurrection and the divinity of Jesus that caused him to leave the priesthood. Despite this, Frank is a deeply spiritual man and Jesus has remained his hero.
Frank is a renowned art collector and patron of the Irish Arts. Michael and himself live in a modest three bedroom semi D in Dublin. The house is crammed with paintings and sculptures and they're both interested in creating spaces for the general public to enjoy art. The walls of the Irish Writers Centre in Dublin and the offices of the Irish Teachers Organisation as well as the corridors of Carlow IT are decorated with Frank's collected works . As he says himself, "it's to inspire the inspirers."
Asked if art has replaced his spirituality, Frank responds by saying "not at all, art is a way of accessing spirituality."