Peter McVerry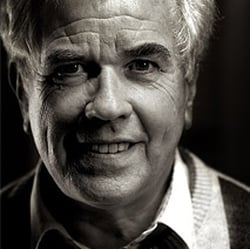 Peter McVerry
Fr Peter McVerry as he's never been seen before. An intimate portrait of the man who, for over 30 years, has been the voice of the voiceless in Ireland.
He came from wealthy stock in Newry Co. Down; went to one of the most prestigious schools in the country; was a grade A student with a promising academic career ahead of him; joined the Jesuits in the early 1960's and while studying for the priesthood and in the middle of a Phd in Nuclear Chemistry, his life and vision took a dramatic turn. Since the early 1970's Peter has been a champion of the poor and the homeless in Ireland. What caused this radical transformation?
He's always good for a soundbite on social housing, crime, the prison system, the homeless. with the concerns of the less well-off close to his heart. He seldom talks personally about himself."You'll never get to the truth about me." he says with a smile, however, during the course of a week filming with him at his home in Ballymun, at his work with the homeless and following him to the courts and the prisons, WYB gets up close and intimate with a man that some call a saint, others a prophet, and others still, a nuisance. He talks about family, love, his life as a celibate, his commitment to the poor, why he has no friends, and what makes him tick.
He's a man of, what appears to be, contradictions: A priest who sees the Church's emphasis on dogma as irrelevant. "I don't believe in Hell - God is not a judge. .. God is the one who loves you with no conditions attached". When asked about the relevance of the Vatican and the pomp and ceremony surrounding it, he replies: "It appals me. If I was pope I wouldn't live in the Vatican. I don't know what I'd do with the Vatican, I'd probably give it away or sell it."
He himself is a product of private education yet he believes it's education that is the 'great divider' in society and opposes Jesuit involvement in colleges like his old alma mater, Clongowes Wood. The programme sees him discussing these issues with fellow Jesuit, and rector of Clongowes, Bruce Bradley.
"Summerhill changed my life", he says talking about his first appointment as a priest working and living in a tenement in the heart of Dublin's inner city. It was the poor that changed his views on the Church, on Society, and above all, on his values, on what is right and wrong. It was the poor and the homeless that turned his world upside down and drives his passion for justice. "The biggest obstacle to justice is spirituality", he says wryly before he launches into an explanation of what he means.