Pamela's story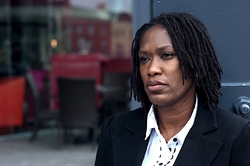 Pamela Izevbekhai
Who or what are we to believe about the Pamela Izevbekhai case, the Nigerian woman who claims her two daughters are in danger of female genital mutilation if returned to Nigeria?
In 1994 Pamela Izevbekhai claims that her 18month old daughter died from Female genital mutilation at the hands of her husband's family. Four years ago she came here to seek asylum saying attempts were made to circumcise her two young daughters Naomi and Jemima. Her initial application for asylum failed and since 2005 Pamela has been arguing her case in the Irish courts.
Last December, The European Court of Human rights intervened in her case delaying her deportation order. Last week, just days before Pamela's case was due before the Supreme Court, immigration officers produced an affidavit from the doctor whose name appears on Elizabeth's death certificate and doctor's report, saying that the documents are forgeries. He even cast doubt on whether Elizabeth ever existed.
Pamela has since admitted that the documents were forged by her husband, though she says, she had, until recently, believed them to be genuine. She insists she did have a daughter Elizabeth who died in infancy from Female Genital Mutilation. Pamela has become a cause célébre. Irish people are ambivalent about her situation. To the Irish State she's a conundrum and a challenge. The Nigerian Ambassador to Ireland, Dr Kemafo Nonyerem Chikwe disputes her case ."The reasons why she has these fears are very ridiculous to us. She may have problems with her husband's family but certainly not fgm..FGM is not a problem (in my country).it is not even discussed. It's not something that matters to anybody in Nigeria."
Pamela claims that her husband Tony and their 18 year old son are in hiding in Nigeria. The family have been separated now for over four years. Before the recent revelations about forged documents, reporter Mick Peelo talked to Pamela about how she agreed to bring her daughter to be 'circumcised' and why she believes her two daughters are in danger if sent back to Nigeria. "I'm living with it everyday. I'm living with the guilt. I made a mistake. A very grave mistake and I'm not about to do it again." In a more recent and exclusive interview with WYB Mick confronts Pamela about the documents which she admits were forged, an admission that not only swayed public opinion against her but also jeopardised her whole legal case.
Amnesty International Ireland has launched a European campaign against FGM which it claims is even happening here in this country. The US State Department Human Rights Report on Nigeria says that 19% of women have been subjected to FGM. The Nigerian Government's own report to the United Nations puts the figure even higher at 32.6%. The Nigerian Ambassador disputes the reports on the level of FGM in her country "I can assure you that whoever wrote that report did not know what she was doing. thought it would be a way of attracting funds and that is the truth. This is contestable, my government knows and I'm saying it authoritatively."
(The report, which contradicts the Ambassador,was written by Nigeria's own Ministry for Women Affairs)
Having presented false evidence to the courts Pamela's legal team have walked away. Pamela knows she is in deep trouble. Are her children in real danger? Is this a sophisticated scam? She now has new lawyers to fight her case in the Irish Courts which, in a few weeks time, will decide her fate.