Nothing but the Truth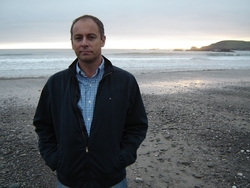 Jerry Shanahan
Jerry with his family
Jerry Shanahan is a successful businessman from Cork who was wrongly accused of corporate fraud by the American Federal Government. The charges he faced carried possible sentence of 30-40 years, but were not covered by any extradition treaty, so he could have simply stayed in Ireland to avoid trial.
Instead, it mattered to him to clear his name. Knowing he was risking not only gaol, but divorce or bankruptcy, he and his family went to America, in order that he could face trial. So uncertain was his future that he recorded video messages for his wife and children, to be seen in the event of his conviction.
After many stressful years, during which he lost his job and a small fortune in legal fees, his name has finally been cleared. The price of innocence has been enormous, but Jerry has no doubt that it's been worth it.