Music in Blood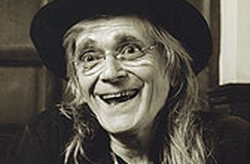 This week Would You Believe tells the story of the talented rock guitarist Henry McCullough from Portstewart, Co. Derry. He moved from showbands to superstardom with Paul McCartney's Wings. But difficulties with alcohol and drugs left him penniless and busking for pennies on the streets of his hometown. He tells how he turned his life around in 'Music In The Blood'.
He went from small-town showband musician to international rock star with Beatle Paul McCartney's supergroup Wings. On stages and in stadiums around the world his was the guitar behind legends like Joe Cocker, Ronnie Lane, Donovan, and Marianne Faithfull. He can be heard on Pink Floyd's 'Dark Side Of The Moon' as well as on the first classic recordings of 'Jesus Christ Superstar' and 'Evita'. With a discography as long as your arm, Henry Campbell Liken McCullough (a 'heavy name' he jokes) of Portstewart, Co. Derry, has seen and done it all.
But with the successes came the excesses, and the rock 'n roll lifestyle, together with drink and drugs took their inevitable toll leaving Henry McCullough a penniless alcoholic busking around the streets of his native home. On top of all this, an accident with a kitchen knife cut through the fingers of his right hand and threatened to put an end to his guitar playing. In desperation he turned for help to the memory of his dead mother, Victoria, and somehow found the courage and strength to rebuild his life.
Now in his Sixties, he lives 'The Good Life' with his partner of 25 years, Josie Gourva, and their 'menagerie' of birds and other animals in a modest cottage near Coleraine, Co. Derry. His life and music are beginning to flourish again. 'I'm playing better than ever' he says, and he's clearly enjoying it too.
His most recent album 'Unfinished Business' echoes the title of his first solo album 'Mind Your Own Business' made in 1975 for George Harrison's Dark Horse label. But now his music seems more personal and rooted. It includes 'Belfast to Boston', (a 'wrong-way-round emigration song' he calls it) reflecting his 'rediscovery' of home. Another track 'Failed Christian', an anguished analysis of his religious experience, has been covered by that other rock legend Nick Lowe. He's just finished a successful tour of Poland, is in increasing demand by radio, and has recently headlined the 60's Green Beat Festival in Dublin. For Henry McCullough the building of 'Life Part II' is well underway.