'Mother and Child'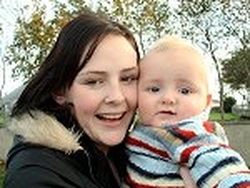 Shona and Liam
The Teen Parents Project was established by the Department of Health and Children in the year 2000 and is funded by the HSE. Currently there are 5 programmes in operation around the country with 2 in Dublin and 1 each in counties Limerick, Louth and Galway. The Projects provide support and practical
information to teenagers and their families as they cope with pregnancy and the arrival of a baby.
WYB reports from Galway and meets 17 years old Shona Egan who became pregnant unexpectedly in 2004. With the support of her parents and the Galway Project she completed her Leaving Cert this year, and is now doing a third level course in Social Studies.
Also included are 17 year old Nadia de Brún and 16 year old Amy Joyce who are due to give birth early next year, and the programme follows them on a tour of the labour ward at University College Hospital, Galway which was organised by the Teen Parents Project.
Aileen Davies, Project Leader of the Teen Parents Project in Galway describes the difficulties facing teenage mothers when they are confronted with the arrival of a baby.
Support Information
Trá is the national co-ordinator of Teen Parents Projects and can be contacted via Lo-call 1890 252 084.
Positive Options provides details of crisis pregnancy counselling agencies. Free text "LIST" to 50444 for this list, or visit the website www.positiveoptions.ie. Crisis pregnancy counselling is free and confidential.