Monks of Moyross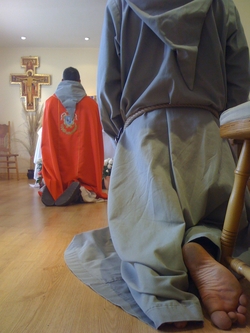 Monks of Moyross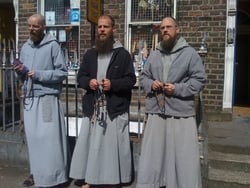 Monks of Moyross
Click here to watch this programme...
Moyross in Limerick is currently undergoing a facelift and part its regeneration is the presence of bearded, grey monks who bring good old fashioned religion back to the people.
These monks must be doing something right because more and more young people are joining their ranks at a time when, here in Ireland, religious houses are closing down. Almost a year after the Franciscan Friars of the Renewal moved into their council house in Moyross, the famous friary in Limerick's Henry Street closed its doors for the last time and the old friars have moved on.
A new breed of monk is making waves in the heart of the Bronx in New York, and is beginning to have an impact here too. They opened their first house in Ireland in Moyross, Co Limerick. In the Bronx they ran soup kitchens, shelters for the homeless but they are somewhat baffled by Moyross: "There's a different kind of need here. It's a social need and a spiritual need. but it is not so tangible in a lot of ways and it's not easy to find out a way in which we are going to bring this to the people other that just being here.," says Brother Shawn. And that's exactly what they are doing - just being, living in two attached council houses in one of the streets in Moyross.
Would You Believe meets Irish man, Brother Columba who is living and studying with the monks in New York. He talks about why he joined up almost 7 years ago. We visit the mother house in the Bronx on the day that many new, young recruits take their vows of commitment to this new religious order. Reporter Mick Peelo visits Moyross to get a sense of how these monks are settling in. Paddy Flannery, Manager of Moyross Community Centre talks about how the community welcomed the monks but."There's a belief out there that the friars came to save Moyross and that regeneration came to save Moyross. What people have to realise is that.at the end of the day, the regeneration of Moyross is going to be down to the people of Moyross themselves and how they buy into it and make changes going forward."
The programme gives a flavour of the lives of the monks as they go about their daily routines. Brother Martin's mode of transport is a bicycle - a sight to behold! Others walk around the neighbourhood in pairs and salute everyone they meet, even pray openly with the children. They have a reputation of being very conservative in their approach - Brother Shawn: "Jesus was the most radical conservative the world has ever known. He was as left wing as you could possibly be and as right wing as you could possibly be. He had both sides wanting to kill him and they eventually did. And I think that's what we have to be. Stop looking at right wing/left wing. What is the truth? And the truth is a mixture of both?"
The programme discovers that every Saturday there's a tradition among the friars to pray outside abortion clinics - some of them have been arrested in the past in the US. When asked why they pray outside one of Limerick's family planning clinics, Fr Sylvester explains: "For us we want to give witness to the value of human life and so we go to abortion mills and we pray outside. We are never confrontational or violent. It is a little different here because abortion is not legal here.but there are family planning clinics or centres that do refer people to abortion."
Fr O'Dea, the local parish priest sees something really positive in the monks: "There was an image that Moyross was a disaster. Three or four years ago they were leaving the parish, waiting to get a new house some place else. Now people are staying and people are wondering can they come back into the parish again. The regeneration and the friars, they're both giving hope and to me that's the most important thing of all."