Mark Patrick Hederman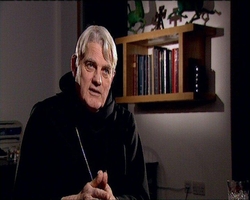 Mark Patrick Hederman
Mark Patrick Hederman was installed as Abbot of Glenstal Abbey in January this year. It came as a shock to those who knew him and his work because of the maverick figure that he is in the Irish Church. It was also, surprisingly, a shock to the community of Benedictine monks who elected him. Every eight years the monks elect a new Abbot and this time was no different. There were a few contenders, the usual suspects - Mark Patrick's name was certainly not in the running.
Something very profound happened in that election which none of us expected, says the burser, Fr Simon Sleeman. Most communities don't elect the prophet, they elect the priest. Br. Ciarán Forbes, the wood turner and member of the community for over 40 years said it was the most moving election that I've ever experienced here. Fr. Gregory Collins, the theologian, said about Mark Patrick, electing him is a sign that we want to move forward into the future in a creative way. What that means, none of us know yet.
When Mark Patrick heard the news he says he felt as if he just walked out of a car crash. I'm absolutely certain that what happened in this community was a convulsion which was organised by the Holy Spirit. There is no other explanation for it.
Would You Believe gets up close and personal with the new Abbot to find out what is it about him that jolted even his own community of monks into hopeful expectation when they elected him.