Living on the Hill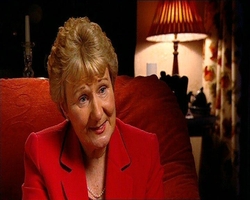 Mary Nally
What started in Summerhill in County Meath as an antidote to bingo has turned into a quiet revolution that has seen people live longer, be healthier, happier and more empowered.
Twenty years ago Mary Nally established the Summerhill Active Retirement Group in response to a lack of facilities for the village's older community. She resolved not to let her elderly mother simply sit staring into the fire. As a nurse who had first hand experience of caring for older people at St Joseph's Hospital in Trim, she was well aware of the negative health implications which came with a lack of activities and isolation.
From a portacabin, based at the back of the local heath centre that group has mushroomed into the 'Third Age', a whole network of organisations and support systems for the elderly which have had a positive impact on the whole community.
As well as a resource centre, advocacy services, computer classes , PE classes , social events, annual holidays and outings, Mary Nally has set up a helpline for senior members of the community, manned by volunteers which received 5,600 calls in 2007. It is run by older people for older people. This initiative has been rolled out across the country and has recently stretched across the Atlantic to Yonkers in New York where Mary Nally and some of the volunteers have been training local people to run such a helpline. Her latest project is 'Failte Isteach 'a programme where older people teach immigrants conversational English. This has proven to be a life line and also a way of including people from outside in the life of the community.'
Would You Believe has been to Summerhill to get a sense of the atmosphere and the work that has brought the generations together and empowered older people.
Reporter Roisin Duffy
Producer/director Geraldine Creed
Useful links:
Senior Help Line
1850-440-444
www.seniorhelpline.ie