Living on Borrowed Time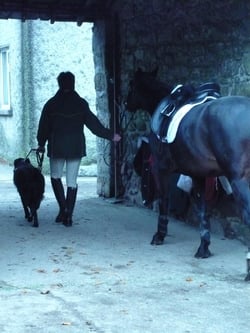 Click here to watch this programme...
The inspiring story of Paralympian Joan Salmon.
Paralympic medal-winner Joan Salmon has some determination: she's blind, was the first Irish person to undergo a kidney and pancreas transplant and then she survived breast cancer - but anyone who knows her says she's a risk-taker, a great horsewoman and, above all, an inspiration.
Despite all she has been through in her forty-odd years, Joan Salmon says: 'Life is good. I enjoy my life. I enjoy a challenge. I like to be told you can't do something and prove people wrong!' Joan was diagnosed with diabetes at 11 years of age; after she came out of hospital she got a present of 10 horseriding lessons from her father. It was to change her life. She lived for the horses but sadly her sight and health began to deteriorate. She became a competent showjumper but, at 23-years-of-age, she lost her sight completely and was told she would never ride again. She was determined she would. With the help of some very understanding people, she got back on the horses and went on to win a bronze medal in Dressage at the Paralympics in Atlanta in 1996. But it wasn't easy - she had to learn to ride again, without her sight. In the middle of her training, her kidneys began to fail and, faced with the prospect of dialysis and the confinement it offered, she put herself forward for a kidney and pancreas transplant. Even her doctor didn't believe she would survive it. but she proved him wrong.
Joan has an amazing outlook on life. At one stage, while training for the Paralympics, her horse was at a stable in Kilternan while she lived 6 miles away in Clonskeagh. The bus used to pass her by so often that she learned to walk the route with her guide dog, a 12-mile round trip she walked every day. She was determined not to be beaten. Joan's had a mastectomy too but fobs it off as if it was incidental to her life. What matters is her dog Elton and her horses. It's what she gets up for in the morning. Each day, she walks her dog for an hour and a half before heading off to train with her horse - with the 2012 Paralympics in her sight. But it's an uphill battle as she's aware: 'Transplants have a lifespan. A kidney lasts about 8 years, I have mine 19 years, so I know I'm on borrowed time'.
'Meeting Joan would do your heart and head good' says reporter Mick Peelo. 'She's a breath of fresh air. She puts everything into perspective.' Joan has a great sense of humour but she does get depressed at times and would love to have a partner, someone to share her life with. She is lonely and feels her blindness has always been a barrier. 'People who don't know me see 'blind' first. A lot of people aren't prepared to cross that barrier. There's not a day goes by that I'm not reminded I'm blind. I wish everyday I could see again but I can't and that's how it is. You either learn to live with it or you don't live at all.'