Liam Burke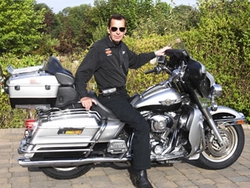 Liam Burke is a Harley Davison-riding photographer from Limerick. He has travelled the world as a volunteer taking photographs for Concern.
More recently it is Liam himself who has felt carried by a big brother he only recently discovered he had. Hubert died in infancy, before Liam was born, but Liam is now quite convinced that his brother has been his "angel", as he's faced difficult trials in recent years.
Liam was not a religious man but when he was diagnosed with cancer of the brain and spine in May 2009 his life took on a whole new meaning. Like anyone with a terminal illness, he hoped for a miracle. The difference with Liam is that he believes he got one. While his doctors say he is in remission, Liam believes he has been physically cured. He doesn't care what the doctors say because he believes he has been healed spiritually and physically. What he has now is health and time, and a perspective on life that is far richer than before.
What he has seen and suffered himself has taught him profound lessons about life. Since his diagnosis in May 2009, he has travelled from Ireland to Brazil, looking for a miracle, but he got more than he bargained for. It has been a journey that Liam could never have imagined.
Desperate for a miracle, Liam tried everything - Padre Pio's mitten, prayers, medals, shamans and healers. Despite his religious scepticism, he had an extraordinary experience at a healing service with Eddie Stones, at Emmanuel House of Providence in Clonfert. Liam doesn't believe he was healed there, but he says that what happened there "was just the start and the help that I was asking for."