Leading Lady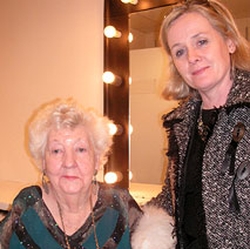 Gladys Sheehan with Roisin Duffy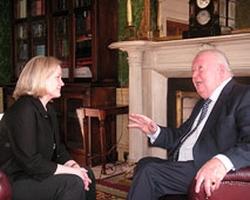 Roisin Duffy with Bunny Carr.
Click here to watch the programme....
At eighty seven years of age Gladys Sheehan may be an unlikely calendar girl but when the calendar is a fundraiser for cancer support and when you still look as glamorous as you did forty years ago why not flaunt it! Gladys' philosophy is simple -'people grow old way before their time. I've no great secret, I just get out and enjoy life, and take everyday as it comes'. Gladys has juggled family and career for over four decades and is still going strong. She runs a drama school for children from a small studio at the back of her house and believes that it is this hands-on contact with younger generations that keeps her going and has buoyed her up in times of tragedy. And despite her energetic bubbly character Gladys has had many tragedies in her life.
Three of her children were born with disabilities as a result of blood transfusions. Two are dead now but her youngest son, Dara, who is profoundly deaf, still lives with her. Gladys was one of the first campaigners for the National Association for the Deaf She fought a hard campaign to get 'car fanatic' Dara a haulage license. He now lives a normal life as a truck driver as a result. Gladys' eldest son, Fintan, a cameraman with the BBC, died tragically at a young age only months after the death of her husband, Paddy. Gladys picked herself up after this double blow, which might have brought many to despair. 'I had three children with special needs dependant on me! What else could I do?'
Apart from raising her family and running a drama school, Gladys also had her other life as a glamorous actress. Starring in one hundred and twenty films, she was a regular at Ardmore Studios in the heyday of film making. She brings us back down memory Lane to the Studios, a stones throw from her house in Bray- and here she tells us of her meetings with stories of Sean Connery, Robert Mitchum and Gabriel Byrne. In 2005, Gladys was honoured with Person of the Year by Bray Chamber of Commerce. Her indomitable spirit is an inspirational to anyone of us striving to cope with family, career and personal difficulties. To meet Gladys Sheehan is to sip the tonic of one genuine Leading Lady.