Last Words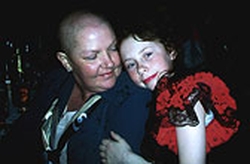 Like it or not, death is a reality that faces us all.but most of the time we don't care to think about it.
At 53, Eva Kelly found out she had lung cancer and only 9 months to live. That was January 2006. Her first thought was that she had to make it to Christmas because nobody could put up the tree like she did! But her main concerns were her 11 year old daughter Heather, her husband of 12 years, Frank, and her three boys Robert, Luke and Sean. How were they going to cope without her?
She had so much to say to them but didn't know how to say it, and there was little time. Eva's last few months were difficult for her family but despite this, at her request, they gave the WYB team intimate access to her life, her home and finally, her death. It was Eva's way of saying goodbye to the people she loved.