Live Life in The Moment: the Life and Legacy of Julie Wren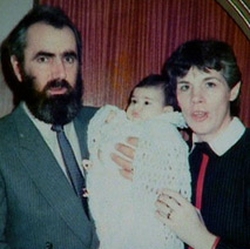 Esther, John and baby
Esther Wren is a modern-day Job figure. A former nun, she left the religious life and married John Wren, a farmer. They had a daughter together and were blissfully happy until Julie, their young child developed cancer. For the next five years, Julie faced her illness with courage, good humour and a knowingness way beyond her years. She died at the age of 8.
Within a few short years, with Esther still reeling from the loss, her husband was diagnosed with cancer. He died after a short illness. Esther inherited his family farm, which she loved, but, after a break-in, she felt it was no longer safe to stay. Instead, she sold it and set up the Julie Wren Trust, under the auspices of Our Ladies Children's Hospital, Crumlin, to establish a support service for parent's who want to care for their children at home in the last stage of their illness. Esther believes passionately in a child's right to die at home surrounded by a loving family and familiar objects. The Julie Wren trust will give financial assistance to parents to get the kind of domestic and medical help they need to make this choice.
Esther returned to teaching, but her troubles were far from over, as she herself was diagnosed with cancer. She's still living with it to this day, although recently, after surgery, she was given an all clear. Such a litany of grief and suffering would cause many people to be angry with God, or to lose their faith altogether, but not Esther. She is a woman of deep faith and builds her day around prayer and meditation. She is open to religions and philosophies from East and West.
But most of all she takes inspiration from Julie's life. She remembers that even after a day spent undergoing chemotherapy, Julie danced on the furniture when she returned home.
She remembers her little girl's comments when once she became angry with God for Julies suffering. "God is in me, he is in you. If you are angry with him, you are angry with me. You should thank God". So, Esther lives a life of thanks; for Julie's short but beautiful life, her happy marriage, her friends and family and the joy that each day brings.
She has learned from her daughter, Julie, to simply embrace and enjoy life - to live life for the moment.
If you wish to make a donation to the Julie Wren Trust contact
The Julie Wren Trust
c/o The Children's Hospital Trust,
Crumlin,
14-18 Drimnagh Road,
Dublin 12,
Ireland
The music for this programme was specially composed by members of Irish band TRALES.
Composers were Morgan Buckley and Gavin Drea, additional music by Feilim O Connor. The Music Producer was Kevin Brennan
For further details see www.myspace.com/followtrales