'Iron Will'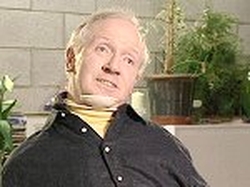 Jim Costello
Jim Costello was a 15 year old schoolboy in Clongowes Wood College when he contracted polio in 1958. He developed an upper-body paralysis which severely compromised his lung function and left him without the use of his arms.
Since then, Jim has spent much of his life in the polio unit of Cherry Orchard Fever Hospital in Dublin and is now, the last surviving patient in that unit. He is also the last man in Ireland to still be reliant on an iron lung to do his breathing for him.
Despite these massive challenges, Jim managed to run the family retail business, dabble in property speculation, co-own a restaurant and sustain both a successful relationship with his partner Delia for over 20 years and a passion for rugby as member of Greystones Rugby Club.
Since his retirement, due to worsening health problems, Jim has worked tirelessly as a founding member of the Post Polio Support Group which supports survivors who are affected by the late effects of polio - a second and debilitating condition that is affecting people many years after their original polio diagnosis.
Although Jim's condition is often more severe than those whom he supports and encourages, his incredible strength of character and positive attitude to life makes him an inspirational figure and the very embodiment of an iron will.
For further information on polio or post-polio syndrome contact the Post Polio Support Group:

Phone: 873 0338
Website: www.ppsg.ie