WOULD YOU BELIEVE? The Secret of the Universe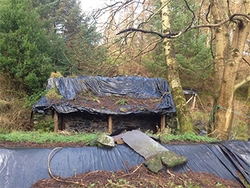 A local garda found him in May 2015 in a decomposed state at his writing desk in his self made hermitage in the Glenmalure Hills in county Wicklow. He'd been dead for a number of months. He lived there on his own for over twenty years. The local Church of Ireland and Catholic priests officiated at this funeral. The gardaí and Interpol couldn't find his next of kin or anyone related to him. A few of the locals and his neighbours attended his funeral out of respect for the man, some of them even liked him despite the fact that he constantly argued with them. He's buried in the local graveyard, but nobody knows who Peter O'Neill really was.
His little library and correspondence might reveal something about him- one book has an inscription by a pastor 'To Peter, a searcher after truth'
His interest in rare and medicinal herbs may tell us more.?
The locals tell us that he was contrary and his own worst enemy. He preferred dogs to humans.
The retired garda kept a close eye on him over the years and has some insights ..
The priest thinks he may have been a professor of theology or scripture.
Where did Peter O'Neill come from? Why did he decide to live an ascetic lifestyle in the Wicklow hills, and what did he mean when he told his GP that he'd found the secret of the universe?