Atonement: A Would You Believe? Special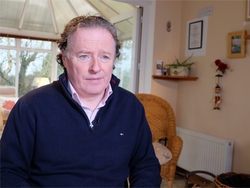 Sunday 3rd April at 10.30pm on RTÉ One
Inside the mind of a bomber who sought justice and truth through armed conflict but found them in solitary confinement. The teenager who saw his friends shot dead became the terrorist who sent revenge in the post. Shane Paul O'Doherty received thirty life sentences for his bombing campaigns. Seeing his victims in court was the catalyst that provoked his conscience and sent him on a journey of discovery. Through years of studying the bible and corresponding with his bishop, he found the truth he had been looking for in the isolation of his solitary cell. From there, he stood alone and publicly challenged the morality of armed struggle. Today he's still atoning for his actions, will he ever be forgiven for what he did 40 years ago?
"People in the Rosary bead brigade involved in armed conflict must suffer the pangs of conscience and suffer the requirements of atonement to their last breath. I am in that category."- Shane Paul O'Doherty
"Many say to me your crimes and your sins are too great and you shouldn't be associating yourself with the Catholic Church" - Shane Paul O'Doherty
Will he always be known as the 'baby faced' IRA bomber? His wife Susie O'Doherty doesn't see him that way: "I didn't marry an IRA man; I married someone with a past. If you spent any time with Shane you'd realise he's far from the IRA man."