Guinnesses For God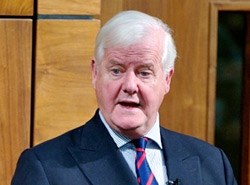 RTÉ One, Sunday 3 March, 10.30pm
One Irish family name has become not only one of the world's best known brands, but somehow synonymous with Ireland and Irishness. But there is much more to the Guinness tradition than "the black stuff." Down the generations, the family has left its mark in so many ways in the capital city and there is also another less well-known legacy.
Dr Os Guinness is the great great great grandson of Arthur, the founder of the brewing dynasty. He is an internationally-renowned radical Christian thinker, speaker and author. All his life, he's been tackling the big social issues of the day head-on, something which he sees as a continuation of another great Guinness family tradition:
"There are the banking Guinnesses, there's the brewing Guinnesses and then they say, using a kindly euphemism, there's the Gentlemen Guinnesses or the poor Guinnesses, sometimes known as the Guinnesses for God. "
- Dr Os Guinness
Os Guinness is today based in Washington DC, but travels all over the world to talk and teach. On a recent visit to Ireland, between giving lectures, he got a chance to explore some of his Guinness roots and radicalism and reflect on how that heritage has helped shape his own sense of purpose.
Os was born in China to medical missionary parents. Indeed, before them, his grandfather, Dr Whitfield Guinness, was a surgeon with the Inland China Mission and set up one of the first western hospitals in China. He treated the Dowager Empress Cixi and Puyi the Last Emperor. But the China Inland Mission set up by Hudson Taylor took a very different approach from other western missionaries, who often stayed in the colonial ports such as Hongkong and Shanghai.
"Hudson Taylor believed you had to make the Christian faith Chinese to the Chinese, so they went inland and they learned the dialects as well as mandarin and they wore the dress of the locals...and of course they suffered when the locals suffered." - Dr Os Guinness
And suffer they did. They lived through the Japanese invasion . The war and civil unrest gave rise to a terrible famine in which over 5 million died in just 3 months.
"My mother was a surgeon. She said she might have been a stockbroker or a ballet dancer, for all the good it was being a surgeon, when there was no food and no medicine." - Dr Os Guinness
His mother nearly died, and his two brothers did. Os and his parents moved to Nanking and Os remained there until 1949, when the communist troops marched in and the reign of terror began. He escaped to England - his parents followed years later. As Os says in his understated way, "So my first 10 yrs were quite dramatic."
Os' life and faith journey and his academic pursuits have come together in his work, which focuses on the challenge posed by multiple faiths and ideologies co-existing peacefully.
".You can see across the world that religion and ideology have created endless conflicts; Government Oppression - sectarian violence and incredible confusion in many of our western countries as to how all the different faiths should relate to each other and public life. I've always thought we've got to tackle the huge issues of today.but the main issue for the last 30 years has been this global question: how do we live with deep differences?" - Dr Os Guinness