Grá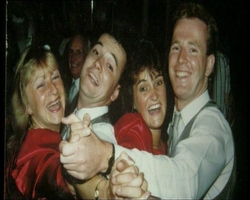 Mark and Robert Colclough
Click here to watch this programme...
Two brothers lives changed dramatically after they were dragged, 'kicking and screaming,' to Medjugorje to make a pilgrimage in memory of their mother.
Mark Colclough was in the music business and was enjoying life. His brother Robert was in his late 30's and worked as a software engineer. He had everything, money, house, car, all the signs that of a successful career. Then suddenly their mother died of a massive heart attack. Eithne's death raised serious questions for the two brothers, who independent of each other, began to dig deep into their lives asking the big questions: what am I about? What is life for? Where am I going? They began to talk to each other and decided, 8 months after her death, to do a pilgrimage to Medjugorje in her honour. That was 12 years ago. Today Mark works in the area of addiction and Robert is a Catholic priest in the Dublin diocese.
Something happened in Medjugorje that changed these two brothers. Would You Believe tells their story and how today they try to bring something of what they experienced to others. Two years ago, on the 10 anniversary of their mother's death, they opened Grá House, in Rathdrum, Co. Wicklow, a house that was given to them for nothing so that they could develop their work with rehabilitating addicts.
The programme hears from three lads who have and are benefitting from living at Grá House. Each of them attributes their recovery to prayer. "That's what saved me from the streets and death" A group of drug addicts recently visited Grá house. Some were wary of the 'religious dimension' and what they might find there but after meeting the lads one of the women said: "it just gave us so much hope, and so much inspiration. As I came away from this building I got fire in my belly.I want to be off methadone."
Contact Grá at:
Phone: 040 443614
Email: gra@gra-site.com
Web: www.gra-site.com