Food for Thought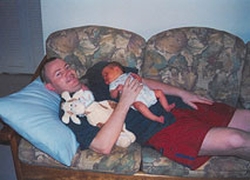 John Casey
This week, WYB follows the inspirational story of John Casey, an internationally renowned chef whose entire life changed within twenty four hours.
John's career began as a youngster while playing pool at a local hotel. On this particular day, John volunteered to help the hotel manager with a catering event. Little did he know this was to mark the beginning of a long and successful cooking career. From this point he went on to carve out a highly successful career as an international chef, working in top hotels throughout Europe including The Savoy in London.
He went on to work in America for the Ritz Carlton Hotels in Boston and Southern California. His goal was always to try to be the best, and as a result he became a highly sought after chef.
In America, he met his wife to be Deirdre, who had been a childhood friend from home. They returned home and married in Cork. However, settling down was not on the cards for the couple as John was offered a job in Barbados and the couple relocated to the Caribbean.
While working long stressful hours in Barbados, John began to develop headaches. Initially ignoring them, it culminated in his collapse one evening in the hotel kitchen. He was urgently flown to Miami where an MRI scan revealed he had less than twenty four hours to live, if they did not operate.
Following serveral operations, the tumor was successfully removed and completely cleared. This good news was received at the time of the birth of the couple's first child, Shane. They decided to return to Ireland to rear their children. John also returned to college to learn about the connection between diet and health and completed training as a tutor.
Today, he travels Kerry giving cooking classes and encouraging his participants to change their approach to nutrition. This year, he also began a new course teaching bachelors who live alone the basics of cooking. Following these major life events, Deirdre and John acknowledge that their entire perspective on life has completely changed; living every moment of life to the full.