Finding Azamat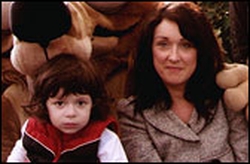 Kilkenny woman Helena Walsh-Kiely was so moved by the Beslan school massacre in 2004 that she decided to find one child she could help. Would You Believe tells the story of Azamat Mukagov, who at 18 months was the youngest survivor of the siege, and the remarkable bond which has developed between Helena and the Mukagov family.
"I always believed there was a limit to good and a limit to evil in the world. But when the truth about Beslan came out, I had to accept that there was no limit to evil anymore" - the words of Helena Walsh-Kiely, mother of two small boys, who lives near Mooncoin in County Kilkenny.
Helena's response to the horror of the Beslan school siege (2004) in which 331 people died was to find a child from one of the families affected that she could help. After an internet search she found an 18 month old boy called Azamat Mukogov who had
suffered terrible injuries in the botched rescue operation. With the help of a work colleague who spoke Russian, Helena made initial contact by phone with the boy's parents Madina and Aslan.
"I was so nervous making that first call. Had I the right to bother them? Should I leave them alone?"
An extraordinary friendship between Helena's family and the Mukagov's has developed from that first contact. Helena along with her husband Chris and her friends have helped the Mukagov family was the costs of moving from Beslan to Moscow where Azamat is still receiving treatment for his injuries.

In October this year Helena and her 4 year old son Tom made an emotional trip to Moscow to meet Azamat - now also 4 years - and the Mukagov's for the first time. Helena was delighted to find that Azamat is making a great recovery from his ordeal and to speak at last to Madina - mother to mother - about the effect of the Beslan tragedy on their lives.
In this moving documentary Finding Azamat, Helena also learns for the first time some disturbing details of Azamat's captivity in the Beslan school. "I can't understand how God ignored the whispered prayers of little children."