Felicity's Journey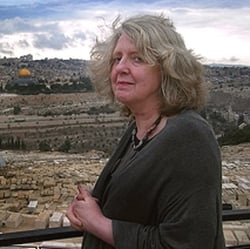 Felicity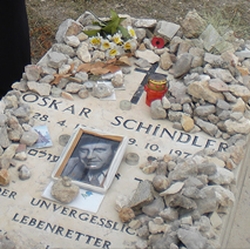 For its last programme before Christmas, 'Would You Believe' travels to Palestine's West Bank with Felicity Heathcote, an author and psychologist who recently spent several years in Jerusalem. Moved by her time living among Israelis and Palestinians, Heathcote wrote an original book chronicling the experiences of the Palestinian people whose dilemma, she feels, is largely ignored and about which the Western world is strangely silent. At this time of year, after all the hullabaloo surrounding the Annapolis conference, we tell a story motivated by a woman's conscience.
The daughter of a British scientist who was also a conscientious objector, Heathcote was writing a book about sport but a time came when she could no longer ignore the human rights abuses she witnessed around her in Israel/Palestine. "Eventually I had to raise my head above the parapet", she recalls. Her time there coincided with Israel's building of a giant Separation Wall, ostensibly to combat the Palestinian suicide bombers but, according to 2006 Nobel Peace Prize Nominee and Israeli academic, Jeff Halper, really a landgrab by the Israelis. Halper says Heathcote's book is unique: it tells the truth about the situation.
The author retraces her journeys through several areas of the West Bank, meeting ordinary people from the tourist's Bethlehem to the notorious Balata refugee camp. She finds a suffering, depressed people who crave normality but face a heavily-armed Israeli apparatus that stops them travelling, working and living with dignity and which offers little hope for their future. but she also finds people with amazing courage and resourcefulness such as a Shakespearean scholar who has created an oasis of beauty for his young family and neighbours. She also confronts the issue of the many ordinary Israelis whose feelings about Palestinians hardened during the years of the Palestinian suicide bombings.

In the course of the programme, we meet a Palestinian doctor who heads up the vital neo-natal unit in Bethlehem's Holy Family Hospital. Despite her having done nothing wrong, Israeli rules dictate that this woman has 'lost' the legal right to live and work in her native Bethlehem; without her, the unit will close and babies and mothers will die. We also travel to the West bank village of Jayyous where the Wall has annexed the land and wells of many farmers, leaving them without basic means of survival. Back in Jerusalem, Heathcote talks with Israelis about the situation and makes a personal visit to the grave of another European of conscience, Oskar Schindler, whom Israel accords as one of the 'Righteous Among the Nations'.

Felicity Heathcote is an accomplished clinical psychologist. She was the first official psychologist to the Irish Olympic team and accompanied gold-medallist Michael Carruth and others in the course of two Olympic Games. She also lived in Belfast for many years and in Iran during the Iran-Iraq war. Her book "The Resting Place of the Moon" is published by The OtherWorld Press, Dublin.